'Tis the season to get gadgets but what are you going to do with the one you've got? Folks will pay good money (or at least good karma) for your second-hand electronics. Here's how to hawk your legacy hardware online—or just give it away responsibly—and get an early start on next years Nice list.
If you decide to recoup some cash and sell the gadgets, the most direct way is to sell them yourself on sites like Craigslist or eBay. Setting up shop in these digital bazaars is as simple as signing up for an account and then writing the perfect ad. But to ensure that your stuff fetches the highest price, you'll need to do some research first. Search the site that you're listing on for models to get a sense of your gadget's current market value and adjust your asking price accordingly. The condition of your item makes a big difference when selling directly so make sure to factor any damage into your search criteria as well. Also, be sure to wipe any personal information from your devices before you deliver them to the buyer.
If dealing with the weirdos on Craigslist is too much to handle, retailers such as Best Buy, Radio Shack, Amazon, Game Stop, and Verizon offer consignment services. You likely won't get quite as much as you would by selling directly but it is far less of a hassle. Sites like Gazelle which specializes in Apple products, Amazon, which accepts many older phones that the others don't, and Nextworth, which pays for a host of gadgets including tablets, phones, cameras, calculators, and tablets, will also buy your gear.
Make sure you know how and when you'll be paid by these retailers. Amazon, for example, will make an offer based on your description of the item, then have you send it for inspection before sending Amazon gift cards for the agreed upon value. Best Buy operates this way as well, paying in gift cards, though you can also sell items at its brick and mortar locations as well. Helpful when you don't want to wait 48 hours for Amazon cards. Nextworth will pay you in any number of ways—check, PayPal deposit, or Target gift card—but takes as long as ten business days to initiate payment. Gazelle also offers a variety of payment options—Amazon gift card, PayPal payment, or check—and typically takes about a week.
If, on the other hand, you are feeling generous (or just can't quite get the price you want) many charities will gladly accept donations in the form of electronics—either refurbishing or responsibly recycling them. But which charity should you give your goods to? That's ultimately up to you to decide, however we've included a brief list of major charities. If you know of another worthy cause, let us know in the discussion below.
G/O Media may get a commission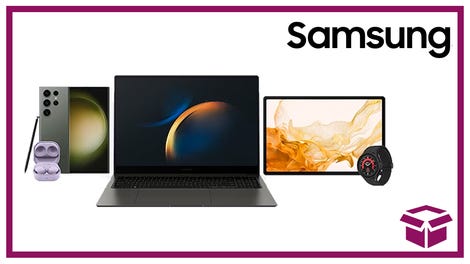 24 hour deals
Discover Samsung - Daily Deal
[Moneycrashers - CNet - Mashable - EPA - Life Hacker - CNN - Image: Bakalusha / Shutterstock]
---
This post originally ran in January, 2013. Websites have been updated