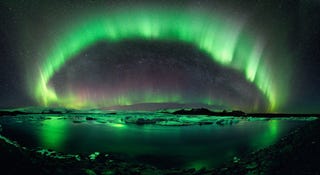 This week rocked us with big news in astronomy, big dangerous hacking attempts, and the discovery that bugs are already immune to supposedly bug-proof GMO corn. Let's take a victory lap on the week, shall we?
Somebody's going to win a Nobel Prize. At least that's what the physics community is saying after the announcement on Monday that a Harvard team has found the first direct evidence of cosmic inflation right after the Big Bang. It's more proof that the Big Bang really was the beginning of it all.
As you've probably heard, yesterday a team of scientists identified evidence of cosmic inflation right after the Big Bang, a finding which helps explain how the entire Universe originated. Amazing as that sounds, it's way more important than you even imagine.

On any given Tuesday in the 90s, I would hustle to the record store after school to gawk at the new releases. Occasionally, I would take a CD home, greedily tear it open, pop it into my boombox, and listen while I pretended to do my homework. This wonderful experience has no value any more. It's obsolete.

It's a shame you can't unsubscribe from group texts. This week I was one of the recipients of a never-ending text bacchanal with a bunch of people I didn't know. But it wasn't fun or consensual. It was just a good reminder that we need to talk about text etiquette.
Well that certainly didn't take very long. According to a study published Monday, the Western Corn Rootworm (actually a beetle larvae) has already developed a resistance to not one but two strains of generically modified corn thanks to the over-reliance and improper implementation of the crops by farmers in Iowa.

The pinnacle achievement in active eyewear was once simply making a pair of sunglasses that were light and wouldn't shatter into your eyeballs. While that's still important, technology has obviously progressed. So what is the future, exactly? Heads-up displays? Augmented reality? Cybernetic retinal implants?

A massive solar storm in July 2012 was more intense than thought—and it blasted right through the Earth's orbit. Luckily for us, we were on the other side of the sun, thus missing the chaos completely. But if that storm had hit this beautiful little blue marble in space? "The solar bursts would have enveloped Earth in magnetic fireworks matching the largest magnetic storm ever reported on Earth, the so-called Carrington event of 1859," Science Daily reports.

In Manhattan this spring, crews are ramping up work on Hudson Yards, the largest private development in US history. But what's fascinating about this new mega-development aren't just its buildings. It's the fact that they will float above an existing train depot on a massive artificial foundation. We got an early look at how it's being built.

Like a landscape of the undead, the woods outside Chernobyl are having trouble decomposing. The catastrophic meltdown and ensuing radiation blast of April 1986 has had long-term effects on the very soil and ground cover of the forested region, essentially leaving the dead trees and leaf litter unable to decompose. The result is a forest full of "petrified-looking pine trees" that no longer seem capable of rotting.
A very tricky phishing scam that takes advantage of Google Docs is making its way around the web. And since it uses a google.com URL and even makes use of Google's SSL encryption, it's almost impossible to tell that it's a hack. Your best safeguard, as always, is a little bit of common sense.