Have you ever read I, Libertine? The book itself may be less interesting than how the book came to be. Hear the story of the book that started as a hoax.
Jean Shepherd, a 1950s radio DJ, was very slightly embittered. He had reasons. He was given the 1:00 to 5:30 slot at his radio station. In fact, he wasn't even at the station, since he did his broadcasting right at the broadcasting tower. He did rejoice in his loyal fans, and shared his slight bitterness with them. Shepherd, and the emerging beats who listened to him, grumbled about the fact that they, the "night people," had to live in a world run by the "day people," with their lists and their rules and their phoniness.
In 1956, after a visit to a bookstore that showed him that most people in the publishing business would blindly follow wherever the right kind of popular opinion led, Shepherd came up with a hoax. Today we might call it an attempt to "hack" the system. He wanted to get a book talked about so much that it made to the bestseller list. And he wanted it to be a nonexistent book.
That was how I, Libertine, authored by Frederick Ewing, and published by Excelsior Press of Cambridge University, burst onto the literary scene. Night people went into stores asking for it, bookstore owners began making inquiries, and the hoax was helped along by Shepherd's contacts in the media, who mentioned lunches with "Freddie Ewing." Naturally, some people who weren't in loop played along, talking over the merits of the fake book and giving the story credibility. One college student even got a B+ for a paper discussing Frederick Ewing's historical fiction.
G/O Media may get a commission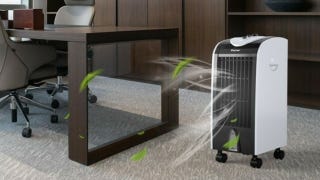 Save $10
Evaporative Portable Air Conditioner Cooler with Filter Knob
Eventually news of the hoax broke. Some people were humiliated, but some decided to have no shame. The head of Ballantine Books decided that all publicity was good publicity. He contacted Shepherd and novelist Theodore Sturgeon, whose latest book, The Perfect Host, came out in 2014. Shepherd outlined the story, Sturgeon wrote the book, and Ewing is still listed as the lead author on Amazon's listing for I, Libertine.
Today people seem more pleased with the story of the book than the story in the book. A review with the title "Excelsior!" - Shepherd's catchphrase - only gives the book two stars. Still, two stars are arguably better than nonexistence.
Sources: The Man Behind the Brilliant Media Hoax of "I, Libertine", Night People's Hoax on Day People Makes Hit With Book Folks, I, Libertine.