In 1980, not everybody had a chance to see Star Wars in China — but they could read the comic book adaptation. And now, thanks to historian Maggie Greene, so can you. Marvel at the stunningly beautiful art. But also some weird choices, like Darth Vader attacking the Kennedy Space Center.
In addition to owning a lot of 1950s and 1960s publications of various stripes, I have a small collection of lianhuanhua 连环画, picture storybooks, or comic books (though they're a different format than the ones commonly seen in the West)... So it shouldn't be a surprise that in 1980, an enterprising press in Guangzhou put together a lianhuanhua of a popular Western movie – one that had come out three years before in the US, and a year after that in Hong Kong (my guess as to where the "libretto" and stills, etc. came from: it seems pretty obvious from the drawings that the artists weren't always working from an actual film, or really much at all).
As Greene points out, there are some incongruous things included in this storybook. There are the weird bits of "Western life" thrown in for no particular reason, like someone cooking a duck in a toaster oven. And the weird "J&B" logo hanging in Obi-Wan Kenobi's house. And the fact that Darth Vader is making plans to attack the Kennedy Space Center.
Also, Luke Skywalker is weirdly buff, and Princess Leia dresses in a precursor of her "Slave Leia" outfit a lot of the time, while throwing herself at Luke. Chewbacca sometimes looks like an actual Wookiee, and sometimes like an ape from the 1968 Planet of the Apes. And when Ben Kenobi tells Luke about Darth Vader's past, we see Darth Vader wearing a leather harness and posing with a dinosaur.
G/O Media may get a commission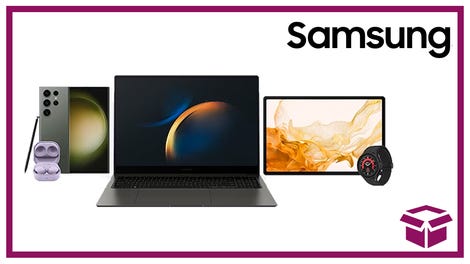 24 hour deals
Discover Samsung - Daily Deal
Also, Bossk, IG-88 and other bounty hunters from Empire Strikes Back randomly show up.
But most of all, the art is amazingly lovely and you can imagine scores of Chinese kids poring over this for hours. Here are a few of our favorite scans, and see tons more at Greene's site.
[Maggie Greene via Boing Boing]