It's one of the most unwelcome alerts you can expect on your mobile device: storage space is running low. That means no more room for your photos, your offline playlists, and myriad problems updating your apps and OS. If you find yourself in such a predicament, don't panic—here's how to navigate your way out.
Finding the storage hoggers
The first step in easing your storage woes is identifying the worst offenders as far as taking up room on your smartphone is concerned: On the latest versions of iOS, go to Settings, then tap General, Usage and Manage Storage. On Android, head to Settings and pick Storage—you can tap on the Apps entry for an app-by-app breakdown.

Your next step depends on what you've found. Large games and bulky apps can be simply uninstalled, for example, at least until you've got your local storage situation sorted out again. For essential apps you can't live without, you might have to take a more careful approach, clearing out the data stored in the app without removing the app itself.
G/O Media may get a commission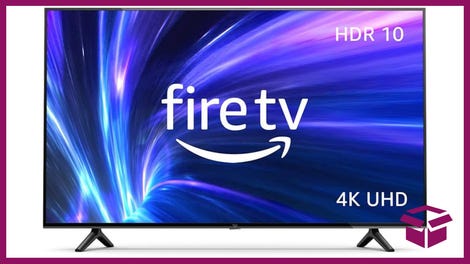 42% Off
Amazon Fire TV 50" 4K Smart TV
Even if you don't think you have many files synced to your handset, apps can often cache data without your knowledge to help speed everything up, as well as reducing their reliance on the cloud and your internet connection. If you can't work out why an app is caching so much data, uninstall it and start again from scratch.
Cleaning up apps
Your apps are hoarding more data than you might think: Cached playlists on Spotify, downloaded episodes on iPlayer, temporary data in Chrome, offline maps in your sat nav app and so on. In most cases, you're going to need to delve into the app in question to delete whatever's taking up the room.

In your music player of choice, it's simply a question of unticking some of the playlists you've marked for offline access. In the case of Chrome, you can choose Privacy from the app menu on both Android and iOS to erase some of the temporary files it's collected.
For a more comprehensive clear out, go to Apps in Settings on Android and select an entry to clear the cache and temporary data hoard for that app; on iOS, you're pretty much stuck with whatever options you can find inside the app itself or uninstalling it completely.
Numerous third-party apps are around to help you in your work on Android. CCleaner, The Cleaner and Clean Master are three apps we've used and been impressed by in the past, but there are several others to pick from as well. In addition to clearing out junk data they can also improve device security and remove bloatware apps.
Backing up media
Chances are that photos, music and video are some of the worst culprits when it comes to taking up room on your smartphone. Getting these files off your device and on to your computer or into the cloud is an ideal way of freeing up space on your mobile device.

There are a bewildering number of options to pick from across iOS and Android, from the built-in options (like iCloud and Google Photos), to third party alternatives (like Dropbox) and the old-fashioned option of simply plugging your phone into your computer and transferring files to other devices that way.
Whatever method you opt for, make sure you have everything backed up in at least two locations before you remove the local copies. Determining whether or not that's the case isn't always easy and is going to depend on what kind of system you've got set up.
As far as your own photos and videos are concerned, we'll quickly cover the 'native' options on Android and iOS here, though of course there are many other permutations. For Google's mobile OS, the obvious choice is Google Photos: as long as backup and sync is switched on, all your content goes up to the cloud automatically using the settings you've configured.
To delete files from your Android phone and not from the Google Photos website (or indeed your other synced devices), you need to go to the app menu and choose Device folders. Choose your pictures, tap the menu button (three vertical dots) and pick Delete device copy.
iCloud is a little more confusing and Apple can't seem to decide exactly how it wants photo and video backups to work. As far as the current iOS 8.4.1 is concerned, assuming you've turned iCloud Photo Library on, you can't actually delete local files without deleting the cloud copies too. What you can do is 'optimize' the local copies so they take up less room—from Settings, go to Photos & Camera and choose the optimize option to do this.
Other options
Those are the main ones, but there are various other ways of freeing up space on your device. You can delete old text and multimedia messages, for example, as well as erase old iPhone backups that you know you no longer need (just make sure you definitely don't need them). The Downloads folder on Android is another area you can investigate.

Don't forget the factory reset option too, which takes care of just about everything we've already mentioned in one go. The advantage is you're left with a completely fresh smartphone with plenty of space on it, but the major downside is having to get all your stuff back on the handset again and ensuring everything is safely backed up first.
A reset (in Apps, Backup & reset on Android and under General, Reset, Erase All Content and Settings on iOS) uninstalls bulky, non-essential apps and of course clears out all of the cached data inside apps too. As we mentioned, just make sure all your photos, songs and movies are safely stored somewhere else, ready to be reloaded.