Spies on the set of David Tennant's final Doctor Who story have spotted a certain actor on set... with weird hair. Meanwhile, Russell T. Davies and David Tennant talk Star Trek and Star Wars. Spoilers!
Fans are buzzing about reports that "Master" actor John Simm is on set for the final Tennant story, and he's sporting bleach-blond hair. Simm's character, of course, was last seen dying in season three's "Last Of The Time Lords," before being burned in a funeral pyre... and having his ring rescued by a mysterious female hand. And now Simm is back — but has the Master returned from the dead as a surfer dude? The mind boggles. Maybe his hair is blond because he's merged with his wife, Lucy Saxon?
Here are some new set pics, courtesy of Alun_Vega (via Planet Gallifrey.) They show guards in black, a Jaguar, the wind from a spaceship landing on the front lawn, and a suspected Simm sighting. (It looks like Simm to me. What do you think?)
G/O Media may get a commission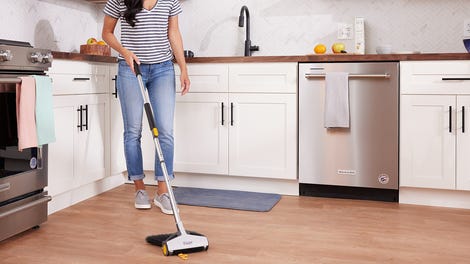 BOGO 50% Off
Flippr - BOGO 50% Off
Meanwhile, producer/writer Davies and outgoing star Tennant gave an uproarious interview to the Times of London. (Apparently John Barrowman's penis is never not hanging out. And Davies only said his next TV show was about gay men because if he said his next show was about chipmunks, he'd be elected president of the chipmunk society and have chipmunks turning up at his door asking for work.)

The reporter asked Davies if there was anything he'd wanted to do on Doctor Who that he hadn't gotten to. And he'd replied, apparently seriously:
I would have loved to have done a Star Trek crossover. The very first year, we talked about it. Then Star Trek finally went off air. Landing the Tardis on board the Enterprise would have been magnificent. Can you imagine what their script department would have wanted, and what I would have wanted? It would have been the biggest battle.
(Presumably this would have been Star Trek: Enterprise, which went off the air in 2005.) Davies also says George Lucas has knocked on the door of every writer in England, including himself, to work on the live-action Star Wars series, but "I'm not going to do a series that's second rate compared to Doctor Who." He did say some unnamed British writers were working on the show, and they're at Skywalker Ranch right now, playing with the lightsabers in the prop room. Davies added that he'd been asked to do a new Lost In Space series, and had felt tempted for a moment:
Obviously, I said no. I'm sorry, I've done the best. But Lost in Space did make me think for a moment. If they got that right: a family, a robot, a villain, trapped on a spaceship . . .
And Tennant said he's been offered a new science fiction thing, that he's not allowed to discuss yet.
Meanwhile, Davies and Tennant said there won't be a dry eye anywhere when his finale airs. And they talked about this Saturday's episode, "Planet Of The Dead":
Russell T Davies: People are going to be Doctor Who-deprived this year, so it's got everything in it: CGI monsters, prosthetic monsters, army, police, an alien planet . . . It's our last chance to have a bit of a laugh. Now the Doctor's facing the end of his life, it's going to get dark.

David Tennant: Some of it was filmed in Dubai, and there were sandstorms . . . We were despairing. I'd look into the distance and go (Acting), "What is this strange alien world?" Well, I couldn't actually open my eyes to look at it. The Exfoliation of Doom would be a good subtitle. My hair was full of sand. And blonde. I looked like Tina Turner.
Wait, so is blondness a sign of transforming into Tina Turner? Could that be the Master's secret?
Oh, and the Times also links to this "ultimate mix" of the show's various theme tunes, which is totally addictive:

Pinball image by Stewtopia. Crocheted David Tennant by Bishma. Vote Saxon posters by OpheliaC.