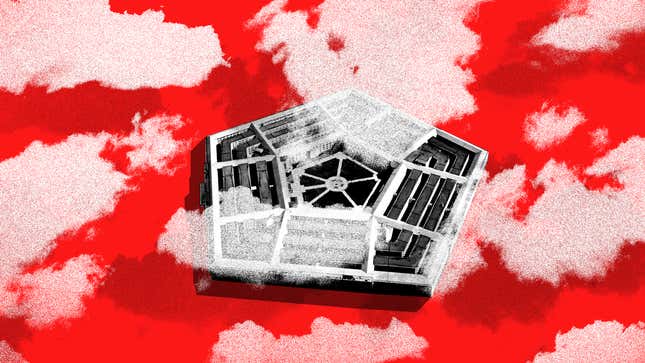 Top tech companies are launching a bidding war for a massive Pentagon cloud contract, even as their workforces are pressing them to refuse all military work. In addition to the protests from employees, the bidding process for the Joint Enterprise Defense Infrastructure, or JEDI, contract is bogged down by infighting between traditional defense contractors and the big tech companies that threaten to edge them out of a lucrative business opportunity—and the Department of Defense worries that all of the controversy distracts from its objective of obtaining the same basic cloud computing capabilities already available for consumers, which it says are necessary to better protect soldiers' lives on the battlefield.
Boogeyman's Director Talks Working on Bigger Budget Horror
Although DoD says it's too early to predict the ultimate value of the contract, JEDI is estimated to be worth about $10 billion. The contract will be awarded for a two-year period, with options to renew for five years and then three years after that. The price-tag makes the JEDI contract tempting for even the largest of tech firms. (Google, for instance, announced in February that its cloud business earned more than $1 billion per quarter, while Amazon Web Services nets over $5 billion each quarter.) The company that wins the contract will also have a foot in the door for future Pentagon work, as the DoD looks to rapidly expand its artificial intelligence capabilities.
To secure the contract, cloud providers will need to meet requirements drafted by the Defense Digital Service, an agency created in 2015 to bring the Pentagon up to speed with the commercial tech industry. One of DDS's successful initiatives was introducing the Defense Department to the concept of bug bounties—programs in which an agency hires friendly hackers to test their systems for vulnerabilities and financially rewards them for their findings. However, securing a cloud provider for the entire Defense Department is one of DDS's largest undertakings to date.
IBM and Microsoft confirmed their interest in winning the JEDI contract, while Google declined to comment and Amazon did not respond to a request for comment. "We believe Microsoft's unique hybrid approach delivers enterprise cloud capabilities from headquarters to the tactical edge and best supports the Department of Defense in advancing its mission," Toni Townes-Whitley, Microsoft's corporate vice president of worldwide public sector and industry, said in a statement.
The DoD has already issued two draft requests for proposals (RFPs). With the final request expected in early May, time is running out for contractors to change the DoD's position that a single cloud provider will best serve its needs. The process, meanwhile, is overshadowed by a revolt among tech workers who believe that working with the Pentagon compromises their ethics.
DDS is staffed with former Silicon Valley types who've embarked on a tour of duty to help improve the government's understanding of and access to technology. The military is woefully behind private industry when it comes to cloud technology, DDS says, and its current cloud solutions are no exception.
Tim Van Name, deputy director of DDS, recalled a recent visit to a military base in Germany. "On that base, it is faster to burn a presentation to a CD-ROM and drive it to the other side of the base than it is to put it on the infrastructure and have someone else access it," he explained. That's the norm rather the exception on many military bases, DoD says, and basic cloud capabilities are desperately needed in order to efficiently transfer essential files.
The JEDI contract will also set DoD on track to automate some of its analysis work. Analysts lose valuable time categorizing images by hand, a process that could easily be handled by commercially available software—even your iCloud account offers some basic image categorization features, for instance. Today, DoD linguists also translate mass amounts of documents—but the Department receives more documents on a daily basis than it has the human capacity to translate.
"We need natural language processing that can assist our linguists with triaging and prioritizing documents for translation. Commercially available software can be used against this problem, provided the Department has the right infrastructure capable of accessing the necessary training data, models, and documents," Chris Lynch, director of DDS, explained.
DDS staffers have developed a stringent list of requirements that any cloud provider needs to meet in order to be eligible to compete for JEDI, and the agency seems intent on awarding the entire contract to a single provider, rather than splitting it up between several vendors. The acquisition process has been subsumed by controversy, as legacy government contractors go up against tech titans for the coveted contract. The DDS requirements have sent defense contractors and their lobbyists scrambling—an initial JEDI proposal received more than a thousand comments from industry representatives.
Because DoD has made clear that it wants to reward JEDI to a single vendor, the contract has sparked in-fighting even among big names in tech who worry that Amazon, which is widely believed to be the JEDI frontrunner, will edge them out of the bidding process. For the smaller players—and even fairly large companies like Oracle—the only hope is that DoD will relent and pursue a multi-cloud approach, carving up its business into smaller RFPs instead of dumping all its eggs into one monstrous basket.
"I think what you saw across the board was comments from industry pushing for a multi-cloud direction, to which they responded, 'Your comment is noted,' basically saying thanks but no thanks," one industry executive, who requested anonymity to freely discuss the bidding process, said. "Clearly, industry has an opinion on this that's diametrically opposed to the DDS opinion."
But DDS's steep requirements are necessary to support the DoD's mission, says Lynch.
"Anybody who thinks that it's a list of technology is missing the point of what we're doing here," Lynch told Gizmodo. "Everything that we are talking about came from painful observations of the ways technology has failed the mission that we run here, and the consequence of that is sometimes death. We lose people when this doesn't do what we need it to do." Lynch and his DDS colleagues have spent time on the battlefield, observing the ways DoD's current cloud setup is failing and brainstorming about what needs to change. That research has been funneled into the JEDI requests for proposals.
It's not only the requirements of the contract that are aggressive—the JEDI cloud must be globally accessible, able to process vast amounts of data, and meet strict security protocols—it's also the timeline. Within 30 days after the contract is awarded, DoD expects to start using its new cloud for unclassified material. A "Secret" offering is expected to be online within six months, followed by a "Top Secret" and above offering within nine months.
The industry pushback has frustrated DoD officials. In late April, Deputy Secretary of Defense Patrick Shanahan defended JEDI from criticism, saying the contract was subject to "fair and open competition" and disputed the idea that it's a winner-take-all situation.
There's also pushback coming from the tech workforce. The Tech Workers Coalition launched a petition in mid-April asking Google, Amazon, Microsoft, and IBM to reject all Pentagon business, and tech workers at Google have been particularly vocal in their opposition to military work. As Gizmodo reported in March, Google is working with DoD on Project Maven, a pilot program that uses artificial intelligence to analyze drone footage. As a result, thousands of Google employees protested the company's involvement.
"Tech companies that have vast quantities of sensitive data from users across the globe shouldn't build offensive technology for one country's military," the Tech Workers Coalition petition reads. It continues, "We risk potentially catastrophic outcomes if we continue to deploy global technical systems without care, deliberation, and a clear understanding of our significant responsibility."
Although JEDI and Maven are not administered by the same office and serve different purposes—one will provide basic cloud services across the Department, while the other is a limited pilot program focused on AI-enabled image analysis—some tech workers see Project Maven as a foothold for companies that are also bidding on the JEDI contract. And so the backlash over Maven is spreading to JEDI as well. It's not yet clear how the petition, or other employee activism currently underway, will influence the companies' business decisions, particularly given the billions of dollars on the line in the JEDI contract.
DoD leaders haven't commented on the protests from tech employees over Project Maven and JEDI, but workers worry that participation in these military projects will erode trust in their companies and align them with a lethal mission that's at odds with their principles.
"We are at a place and a time where the nerds can come and work on changing the course of government right now. JEDI is one small piece, but we get see it every day here at DDS," Lynch said. "It truly doesn't matter what you believe. There are going to be young men and women put in very dangerous places and they may die, and things can go wrong. And I want to do everything I can to make sure they are protected and safe."