We've been anticipating Ruairi Robinson's evil robot short Blinky™ for years! Wait no more, the full short's out for public consumption! Watch it now, and don't worry — your kids are perfectly safe! Plus a musical short with Doug Jones!
BLINKY™
We've been buzzing about Robinson's work long before he was rumored as the director for Akira. Ever since we saw the concept footage of Blinky™ twirling to Shirley Temple tunes, we were hooked. Now you can watch the entire 12-minute short starring Where The Wild Things Are's Max Records.
Sudden Death
Okay, so Sudden Death is a lot like Buffy's "Once More With Feeling," but there's no magical demons or vampires (that we can tell) so let's just give this one a pass (because it looks pretty adorable). Plus it stars John Larroquette and Doug Jones of Hellboy fame (we love all things DJ). The premise is simple, a virus hits LA, everyone sings... and then dies.
Los Angeles has been overtaken by a virus known as Sudden Death Syndrome, a disease that causes its victim to die suddenly and has only one symptom... spontaneously breaking into well-choreographed song and dance. Starring Matt Lutz, Autumn Hurlbert, Doug Jones, John Larroquette, and Mark Christopher Lawrence
G/O Media may get a commission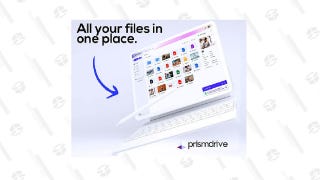 Save 97%
Prism Drive Secure Cloud Storage: Lifetime Subscription
The DVD is available now over at their website.

Recreator
Thanks to Quiet Earth for pointing out the trailer to this clone story. What starts off as a clone comedy quickly shifts into a horror story. So far we like what we see! Written and directed by Gregory Orr.
A Chinese Ghost Story
Part ghost story, part monster tale, this trailer for Wilson Yip's movie is channeling some seriously gorgeous spirits!
Ning is a tax collector who spends a night in a supposedly haunted villa. Instead of obviously grotesque creatures, Ning meets an enchanting maiden named Sian. But Sian is a ghost bound to the netherworld, and worse, her master is a soul-sucking demon with an extremely long tongue! Ning is slated to become the demon's next meal, but some humanity remaining in Sian compels her to keep him alive. Romance blossoms, and Ning resolves to help Sian. He even enlists the aid of a Taoist master to save Sian and vanquish the evil demon. But even if the duo succeeds, everlasting love may be only a fantasy.
Discovered via Filmsmash. Film synopsis via Twitch.
Click to viewHoshi o Ou Kodomo: Children Who Chase Lost Voices from Deep Below
Twitch (who has been calling this film's director Makoto Shinkai the next Hayao Miyazaki) has posted the next trailer for Children Who Chase! Behold its beauty. Shinkai is certainly living up to the reputation.
The film centers on Asuna, a girl who spends her solitary days listening to the mysterious music emanating from the crystal radio she received from her father as a memento. However, she embarks on a journey of adventure to meet a boy again, and thus comes to know the cruelty and beauty of the world, as well as loss.