The premise to DC and Archie Comics' crossover special Harley and Ivy Meet Betty and Veronica reads like a piece of fan fiction, something television or film studio executives dream about but would never dare actually writing. Obviously, this is why the comic's first two issues, written by Marc Andreyko and Paul Dini with illustrations from Amanda Conner and Laura Braga, so damned good. They're so ridiculously absurd, it's almost impossible not to enjoy the hell out of them.
When Veronica Lodge's father threatens a special plot of land in Riverdale as part of his plan to build a new, Trump University-style school, Poison Ivy and Harley Quinn go on a road trip to have a chat with the billionaire about the importance of nature conservation. As far as drama, it definitely helps that, just as Harley and Ivy are making their plans to visit lodge in nearby Riverdale, a group of Gotham thugs are hunting for Harley, who owes them a considerable chunk of money.
The women flee town with every intention of simply explaining to Hiram Lodge why the Sweetwater Swamp is an important part of Riverdale's ecosystem. But, Lodge rebuffs their appeal to protect the land, the ladies devise a plan B. If the filthy rich businessman won't listen to them on the merits of their ecological arguments, perhaps he'll cave under the threat of violence to his beloved daughter Veronica.
Harley and Ivy assume that capturing Veronica will be an easy enough task, but they aren't able to find the high schooler until the night of her father's costume gala celebrating his plans to destroy the swamp. Harley and Ivy show up to the soiree wearing their vintage, costumes assuming that no one will recognize them—and they're mostly right until Veronica and Betty Cooper show up... also dressed as Harley and Ivy (albeit in their New 52 costumes.)
G/O Media may get a commission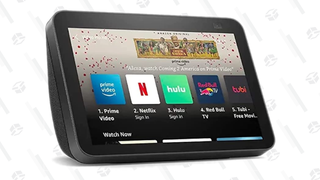 As Ivy and Harley navigate their way through throngs of teens, Harley and Ivy Meet Betty and Veronica gets comfortable with the wackiness of its premise and tosses in a bunch of other classic DC characters to match up with recognizable faces from Archie comics. A partygoer dressed at Catwoman is revealed to be the actual Selina Kyle (she loves Josie and the Pussycats) and a very bemused Sabrina Spellman is shocked when she bumps into Zatanna, the gala's scheduled performer.
Though Harley and Ivy Meet Betty and Veronica definitely has a solid-enough plot and stakes set up for itself, the comic's strength is in the unabashed fanservice dripping off every single page. While trying to find Veronica (dressed as Ivy) so that they can grab her and get on with their ransom, Harley bumps into Reggie (done up as the Joker) whom she charges, screaming "Puddin'!" only to reveal that the gala has a full assortment of puddings on display just behind Reggie.
Even though all four of its titular characters have a lot going on in their respective lives and comics right now, Harley and Ivy Meet Betty and Veronica is able to get away with speaking in a kind of narrative shorthand. The popularity of Riverdale has raised its characters' profile in a big way and Harley herself is a proper icon these days. The beats that Harley and Betty and Ivy and Veronica hit feel familiar because we've gotten to a point now in these characters' existences that you just sort of know who they are.
Of course Harley loves that Betty dressed up as her. Of course Ivy and Veronica are more concerned about their whether their doppelgangers pulled their shared look off successfully. Harley and Ivy Meet Betty and Veronica isn't the kind of comics crossover you'd expect to see, but it's one that perfectly captures this very odd, fascinating moment of comic book popularity that we're currently living in.