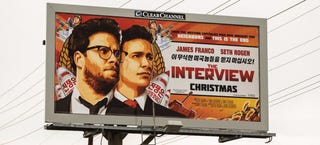 The Interview may be over-hyped and not really worth the drama. It may have been torrented by the world and his hacker. But it also managed to take in an impressive $15 million over the Christmas period just in online sales.
That beats by a significant margin the estimated $2.8 million the film earned in actual theaters—but then, it's only been showing in a small selection of indies. It's also enough to make it Sony Pictures' most successful online film of all time. The income is a result of over 2 million official viewings of the film, most of them apparently through Google Play and YouTube.
If you've not yet seen the movie, you can now also stream it on iTunes.