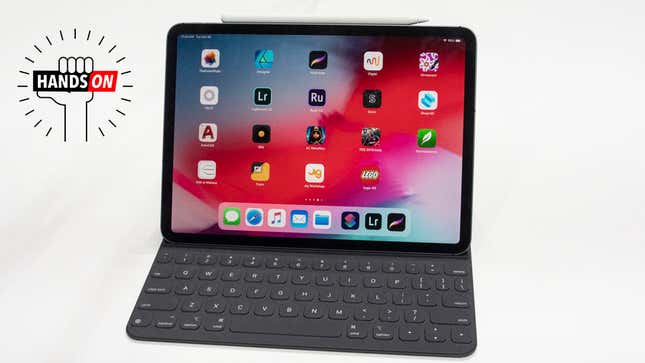 The iPad looks like it's finally poised to stop being a movie watching machine and actually fulfill the promise Apple has repeatedly proselytized: that the iPad is a productivity machine. A new processor, better application support, and a few tweaks to the design have further brought the iPad Pro into a space where it could—conceivably be a competitor to actual 2-in-1s like the Surface Pro or even the Pixel Slate.
Meet Microsoft's New Surface Laptops
I'm not very talented when it comes to making music or art, but I do like to take photos and I do love to hop into Photoshop and spend hours masking and tweaking a piece to make it perfect. So I'm excited for a full version of Photoshop on an iPad—something that will be easier to learn than the Wacom tablet I got a couple of years ago on sale. I'm even impressed by AutoDesk and the support for CAD on the iPad. One architect I spoke with noted that while her office doesn't really use AutoCAD anymore it would be impressive to locally render large CAD files on an iPad.
And if she did, she'd find the new Pencil familiar as it felt like a drafter's pencil in my hand. When I place it on a specific point on the side of the iPad Pro, it snaps securely with a satisfying click. And then it pops right back off. It's nowhere near as cool as the little stylus garage on Lenovo's latest 2-in-1. Instead, it feels like a well designed follow up to the Microsoft Surface Pen. Though unlike the Pen, the Pencil charges when it's attached to its tablet.
There are other notes in the iPad Pro's design that remind me of the Surface. Instead of curved edges, the sides of the Pro are all hard lines like a Surface Pro. It's a blunt and pragmatic design element. The same can't be said for the slimmer bezels. In my limited time with the 11-inch iPad Pro, it didn't seem to falsely detect my hands when I gripped the sides, but I'll be curious to see how well it handles finger slips and accidental inputs when it's midnight, and I'm just trying to tuck into bed and read a book on it.

The display is another Liquid Retina display like the iPhone XR. That's Apple's fancy term for a display that has nice curved corners instead of straight ones. It's a 2388 by 1668 resolution display that Apple claims can support the P3 colorspace—which is a wide color gamut with more realistic reds and greens. It's nice looking, but not too terribly different from last year's display (apart from the curves).
The bigger details are the True Depth sensor hidden in the bezel, and the A12X Bionic CPU packed in under the display. The former is on just one side of the iPad but can be used to recognize your face in both portrait and landscape mode. It doesn't work if your hand it covering it though, and a little notification will pop up if you try to use it while your palm is on the camera.

In a controlled demo earlier today, it worked pretty quickly—often unlocking the iPad before the Apple rep could cover the camera with his palm to obscure it. The only big hiccup occurred when I crowded around the iPad with the rep and the iPad refused to open because too many faces were in the frame.
But let's go back to the A12X because that's the real star of this show. First, it's a great tease of Apple's future product lineup. If it really is as powerful as Apple claims and can surpass Intel CPUs in processor intensive tasks while also boosting battery life, then this contributes to the rumor that Apple plans to abandon Intel at some point and start making its own laptop CPUs.

Apple's speed claims are bold: 3o-percent better single-core performance and 90 percent better multicore performance. As iOS doesn't traditionally do a lot of tasks that require multicore performance, I'll admit to being a little confused. So I spent quite a bit of time trying to get to the bottom of them. So far the jury is still out. No one could give me a list of applications that actually take advantage of the new CPU—and certainly not applications that I could then test against an Intel-based computer running the same task.
Though one app developer provided a counterpoint. Karim Morsy is the CEO of Algoriddim, a German company that develops the music and live DJ app djay. He told me he was actually surprised by the performance of the iPad Pro, and claimed that it could handle some tasks better and with fewer resources than even a high-end MacBook Pro.

And if his claim is true, the iPad Pro could be a devastatingly competent tool video editors, music makers, and image producers on the go. I say could because Morsy is just one man, and we haven't had the opportunity to really put the A12X in the iPad Pro through its paces or create real-world workflows that adequately benchmark it versus laptops. And also because it won't replace a laptop—it has the new Smart Keyboard Folio to thank for that. While the MacBook line's keyboards may get the bulk of key switch related criticism, the iPad's physical keyboard has never been great, and Apple has done nothing to change that. Typing on the new keyboard felt just like typing on the keyboard for the iPad Pro I bought back in 2016. It's perfectly adequate and not very impressive.
But overall the iPad Pro has the potential to be very impressive. It feels like it could be the tool all those creatives I mention reach for or desire. I was standing in line at the Apple event beside two people with green badges. That immediately identified them as not press and curiosity got the best of me. We struck up a conversation, talking about the event and the products they'd probably announce. They mentioned they were "product designers" and were cagey about telling me anything more. They were there to see what Apple had on display for creatives. Presumably, that was why a lot of the font choices at the event looked like edgy Comic Sans and why Lana del Rey sang for us afterward too. It was a theme. This event, and this new iPad, were for creative professionals. Something most of us will never have the stamina or talent to be—but Apple sure is hoping we'll keep trying and, with a glimmer of hope, be willing to pay a minimum $800 for the chance.