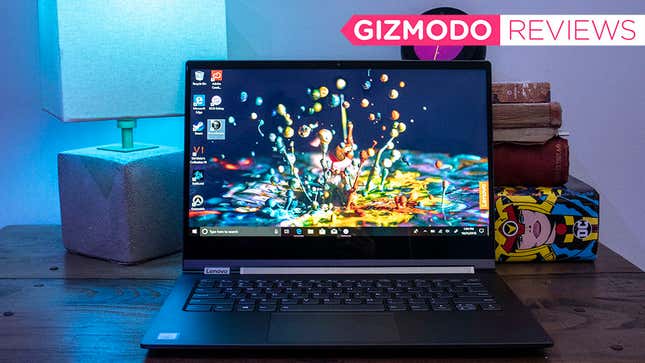 Lenovo's line of Yoga laptops is well known and liked for the clever hinges that allow the devices to smoothly transform from a regular clamshell with a decent keyboard to a thick tablet. In particular, the Yoga made a name for itself with a slick "watchband" hinge that looks more like a fancy piece of jewelry than the widget connecting the two halves of a laptop. With its latest model the Yoga the 13.9-inch C930 (not to be confused with the 10.8-inch dual display Yoga Book C930), the company is trying something entirely new with the hinge by building in speakers. It's a lot smarter than it sounds (although it sounds nice too).
Vizio's Latest TVs Go All Quantum
What's really neat about the new speakers on the C930 is that it takes into account all the different ways people might use the Yoga, by cleverly rotating to point the audio at your head no matter what position you're using the device in. When speakers are built into keyboards of 2-1 laptops, they are effectively useless when you're using the devices as tablets.
And that's a good summation of what makes the c930 really great: It's a 2-in-1 clamshell that actually takes its status as a 2-in-1 seriously. Typically 2-in-1 clamshell laptops treat their touch display as an afterthought. There's the potential to flip the laptop into a tablet mode or a tent mode for movie watching, but the designers never seem to consider how that might affect handling the device.
Lenovo clearly has. Besides the speaker that points at the user no matter what mode the laptop is in, there's also a much wider bezel on one side of the display to make it easier to hold one-handed in tablet mode. And there's an actual stylus! Lenovo has built a "garage" for the stylus next to the hinge. With one satisfying push, it pops out.
Though it's definitely a stylus and not a full pen. While it has the more than adequate 4,096 points of pressure sensitivity, it's a very small pointer intended for quick jobs, not a full day of drawing or writing. It was perfect for an evening of Gwent or even Civilizations VI, but I'd much rather hold a Surface Pen or Apple Pencil if I have to draw.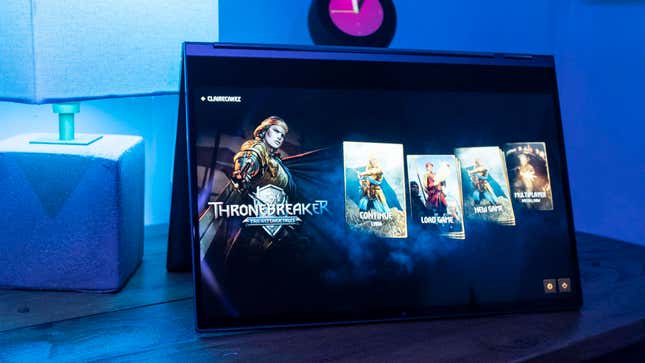 The 1080p display (there's a 4K option as well) supports DolbyVision, a type of HDR that promises excellent dynamic range and rich colors. While it handled the bright areas well enough when watching the Haunting of Hill House, it didn't seem to get as black as I would have preferred. So things on screen seemed a little paler then they should be. The display wasn't washed out by any means—it's still very good, but I've seen nicer displays on other $1,500 laptops (Dell's XPS 13 4K and even the Apple MacBook and MacBook Pro spring to mind).

The Yoga c930 we reviewed comes with an 8th-Gen i7 8550U CPU (though a cheaper i5 8250U option is also available) and performed as you'd expect from a device with a top chipset—keeping pace with the Dell XPS 13 we reviewed earlier this year that has the same CPU, but a 4K display. It also did just a hair better on our battery test despite having a larger display. We set the brightness of the display to 200 nits and stream a YouTube video until it powers down, and the Dell XPS 13 with touch display lasted 9 hours and 28 minutes while the Yoga c930 lasted 9 hours and 55 minutes. That's still abysmal compared to similarly sized laptops that don't have touch displays—the non-touch Dell XPS 13 can last 13 hours and 24 minutes while the 2018 Apple MacBook Pro lasts 10 hours and 35 minutes. Yet it shows that there are some improvements in touch displays, which traditionally severely drain battery life versus non-touch devices.
What really surprised me is that of all the good stuff on this machine, the real standout on the Yoga c930 is the keyboard. It seems to have borrowed heavily from the design of the ThinkPad X1 Carbon keyboard—which is hands down the best keyboard in a non-gaming laptop right now. The Yoga c930 keys don't travel quite as far, and they don't snap with the same satisfaction, but they're close enough that I'd suggest the laptop over a Dell XPS 13 to anyone who likes to type.

Of course, all this smart design doesn't extend to the C930's portability. A big speaker embedded in the hinge adds bulk to the Yoga c930, and at its thinnest, it's 0.57-inches thick, but more noticeable, when picking it up, is how heavy the Yoga c930 is. All that machined aluminum leaves the c930 weighing just over 3 pounds—more if you opt for a larger storage drive or more powerful CPU. That's heavier than older Yogas like cheaper 730, and 13-inch laptops 2-in-1s from competitors like Dell and HP—which top out about 2.8 pounds. Last year's excellent Yoga 920 also weighed in over 3 pounds, so it's not that shocking.
Between the clever design, decent display and battery life, and standout keyboard, the Yoga c930 feels like a budget version of the ThinkPad X1 Carbon—or a worthy if heavy alternative to the Dell XPS 13. If you're really wanting a laptop that can work as a tablet in a pinch this is it. It's got a smart design and plenty of power.
Starting at $1,400 the Yoga x930 isn't cheap. The ThinkPad X1 Carbon starts at just $100 more, and the Dell XPS 13 with touch display (but no 360-hinge) starts at $1,100. You're absolutely paying a premium to have a laptop that can convert into a very thick tablet. But this is one designed from the ground up for that purpose. If a tablet first computer like the Surface Pro just doesn't appeal to you, then this is your 2-in-1.
README
The hinge speaker is both cool looking and nice sounding.
There's a little "garage" for a stylus—though the stylus is too small for long-term use.
At 3 pounds this is a heavier laptop than competition like the 2.67 pounds Dell XPS 13.
Battery life and display quality are both acceptable but not outstanding.
Really this is the laptop for people who insist on their laptop being able to turn into a decent tablet sometimes. Other should seek either cheaper devices, like the XPS 13, or pricier but lighter weight devices like the ThinkPad X1 Carbon.