Apple wants to destroy your wallet and kill your credit cards with Apple Pay, its new mobile payment system.
With a new iPhone or the Apple Watch, you'll be able to ditch your cards and pay for stuff at more than 220,000 merchants by tapping your device. That is, as long as you trust Apple.
Apple Pay is powered by NFC, or near-field communication, and it comes with something called SecureElement, which isn't new (it's been around for three years). It's a piece of hardware that stores your financial information as encrypted. When you make a purchase, it will generate a one-time transaction number. None of the financial info will be shared with the merchant. Lose your iPhone? You can suspend all payments and won't need to cancel your credit cards. Since Apple already has over 800 million credit cards on file thanks to iTunes, it won't even need to bother everyone for their banking information.
Whether or not the technology will be enough to quell worries about Apple's security remains to be seen.
"As it turns out, most people that have worked on this have started by focusing on a business model that was centered on their own self-interest instead of focusing on the user experience," Tim Cook said, throwing some magnificent shade at Google, Softcard, and other mobile payment processors .
G/O Media may get a commission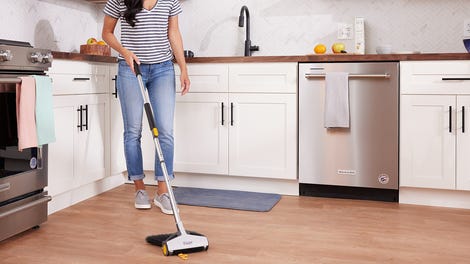 BOGO 50% Off
Flippr - BOGO 50% Off
Apple Pay brings the iPhone up to speed with just about every other premium NFC-equipped smartphone. Apple's weird reticence regarding NFC means it is now years behind Android, but because NFC-based mobile payments still haven't caught on in a big way, it has a chance to catch up… and Apple's covering that gap with all the partnerships it could wrangle to make Apple Pay debut with a splash.
McDonalds will take Apple Pay in its drive-thrus. Whole Foods will take it for organic quinoa. As we previously reported, Apple has deals lined up with Walgreens, as well as Duane Reade, which means you should be able to use the newest Jony Ive Joint to buy deodorant as soon as you buy one. You can bankroll your niece's Disney shopping spree by tapping your phone in lieu of swiping your card.
Video courtesy of MasterCard
It's not just retailers. Apple also teamed up with MasterCard, Visa, American Express, Capital One, and a wide variety of other banks, as well as e-commerce leaders like Groupon. Mobile payment pioneer Square will also work with Apple Pay.
You'll even be able to request an Uber car using Apple Pay, without signing up for an Uber account. The list of partnerships almost makes up for the fact that Apple took a loooong time to get aboard the mobile payments train.
Many of these partnerships offer robust protections. Like, if you have MasterCard, and you're using it through Apple Pay, and the worst case scenario happens and someone hacks Apple Pay and somehow steals your card information, you'll still have the same protection from fraud that you'd have if your physical card was stolen, something MasterCard's EVP of Digital Platforms Mung Ki Woo emphasized to me when I spoke to him over the phone about Apple Pay.
Woo also confirmed something else: in MasterCard's eyes, an Apple Pay payment is the same full-fledged transaction as swiping your card. But so is a Google Wallet payment, or any other NFC-based mobile payment that meets industry standards.
NFC is new to the iPhone, but it's far from a novel technology. And of course, competitors like Google Wallet have already worked with a wide variety of retailers and banks. NFC lets two nearby devices to connect with each other and transmit data. Google has been all over it for years, pushing (somewhat unsuccessfully) to make it take off as a payment platform. Apple has been accumulating a roster of NFC and mobile payment-related patents as far back as 2009, but up until now, hasn't done anything with it.
It's important to note that Apple Pay is important because Apple is a huge phone maker and this means most premium smartphones will now come with NFC-based mobile payment capabilities, and because they've implemented mobile payment technology in a large-scale way, not because this is some marvelous new technology. Apple has been lagging behind here. But if Apple Pay is as simple to use as it looks, this could still be the system that takes mobile payment mainstream.
Apple Pay will launch next month as an iOS update for people in the U.S. Happy tapping.