Gary Oldman reveals Harvey Dent's legacy on The Dark Knight Rises. Tom Hiddleston reveals Loki's Avengers torment. Stars Max Minghella and Olivia Thirlby discuss The Darkest Hour's Moscow setting. Steven Spielberg wants Michael Bay to do Transformers 4.
Spoilers from here on out!
Top image from The Dark Knight Rises.
The Dark Knight Rises
Gary Oldman talks some more about Jim Gordon's role in the movie, in the process revealing how Harvey Dent will have at least a small presence in the film:
We find [Gordon] — obviously I can't give too much away because I'm sworn to secrecy — but when we meet him, things are calmer in Gotham. It's reminiscent of the Gordon that we met in the first one. There's a world-weariness to him, and even though things on the surface are now calmer, he's cleaned up Gotham with the Harvey Dent Act, it's seething underneath.
He doesn't elaborate on exactly what the Harvey Dent Act is, but I think it's safe to assume it's some way of beefing up the city's law enforcement powers. [Moviefone]
In the latest edition of Gary Oldman saying things Warner Bros. would probably prefer he didn't say, the actor speculated the series could still continue in some capacity, even after Christopher Nolan leaves as director and all the cast moves on:
For us I think it's the end. Whether they will make more, my guess is probably. I mean, they don't have Potter anymore. So, there could be a Batman 4 a 5. It may be Chris overseeing it in a producorial position, but for us and for Chris I think that's it. It's a great way to go out though. It's a great story. Epic, epic thing it is.
G/O Media may get a commission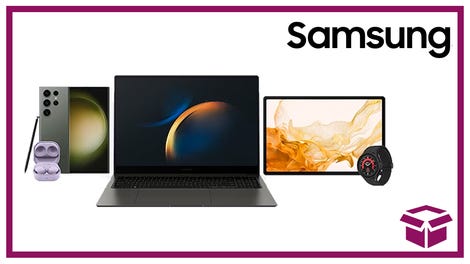 24 hour deals
Discover Samsung - Daily Deal
---
The Avengers
Tom Hiddleston talks some more about Thor and particularly Loki's journeys in the film: "Working with [director] Ken [Branagh on 'Thor'], it was Loki's origin story as much as Thor's origin story, so he was asking for an emotional volatility, a vulnerability, and a spiritual complexity. With [director] Joss [Whedon on 'The Avengers'], he wants to take both of these characters further down the road and set them off, so he wanted a Loki who was feral and dangerous and having a really good time. Someone who overtly and openly delights in the chaos he creates, as opposed to being kind of incidental and accidental, while never losing sight that the birth of his traits comes from loneliness and spiritual desolation. He has nowhere to call home, no place he belongs, so he's a wounded soul, Loki."
---
Star Trek 2
We've reached the point where pretty much all the rumors and supposed inside sources agree that Benicio del Toro has moved on from the project, and attention has now turned to his replacement in the main villainous role. The top choices are reportedly Edgar Ramirez, best known for playing the assassin Carlos the Jackal in the miniseries Carlos, and Jordi Molla, who recently appeared in Colombiana. Ramirez is reportedly the current frontrunner, and J.J. Abrams is expected to make a decision in the near future since production is due to start soon. [Variety]
Peter Weller's agent Todd Eisner confirms that the Robocop actor has been cast in the movie, revealing that "it's a substantial role and that Peter is playing a C.E.O." I'm a bit surprised by that last detail, as I didn't really think the post-capitalist Star Trek universe had non-Ferengi CEOs - and no, that is most definitely not my way of suggesting the Ferengi will be in this. Either way, I'd say this is a good indication that Weller is indeed playing the older, supporting villain role that was mentioned in previous casting reports, as I can't even imagine how you would construct a Star Trek story where the CEO isn't the villain. [EW]
---
Transformers 4
The latest rumor is that Paramount Pictures is using Michael Bay's planned personal project, Pain and Gain — described as "Point Break with bodybuilders", because what else could a Michael Bay personal project possibly be? — as leverage to make him direct a fourth Transformers movie, since he won't be able to get funding for one without doing the other. Whether that's true or not — honestly, I'd assume Bay has the clout to direct at least one small bodybuilding heist movie if that's what he really wants to do, with or without Paramount — Bay did take to his message boards to issue this official, weirdly punctuated statement:
Right now I'm not decided on Transformers 4. Studio's are passing rumors but I'm not sure what I'm doing? I know I'm going to do Pain and Gain early spring but that's it for right now. I'm leaving all my options on the table. I've got several Studio meetings in the next two weeks.
[TFLAMB]
For his part, producer Steven Spielberg not only hopes that Bay returns, he actually thinks Bay is the only person who can direct a fourth Transformers movie:
I hope so, because I think he made the best of the three with this last one. I certainly can't imagine anybody other than Michael being equipped to make another Transformers. He's invented a genre and he's got the secret formula.
[/Film]
---
Dark Shadows
Michelle Pfeiffer, who plays Elizabeth Collins Stoddard in the film, speakings glowingly of her experience and says she hopes they make sequels:
"It was like a dream job. [It is] such a fun cast and we had so much fun. I just love working with Tim [Burton], I love watching him direct. [There's] nobody like him. I loved meeting Helena [Bonham Carter] and getting to know her. I hope it's successful so that we can do a bunch of them because it was such a fantastic, creative group of people...That's what we love about Tim's movies, they're not run-of-the-mill and they don't easily fit into one kind of genre and so it always is a kind of wait-and-see kind of thing."
---
The Darkest Hour
Costars Max Minghella and Olivia Thirlby describe each other's characters in this alien invasion movie:
Minghella: We should describe each other's characters. Olivia plays like a beautiful action heroine. And we don't know too much about our characters before we get them, and we've obviously probably all invented our own versions of our various backstories. But you know, the film gets into the action fairly quickly. We all meet in this club scene, and that's where the majority of the character development happens. We're also stranded in Moscow for various different reasons, and Olivia's character has come with Rachael…[to Olivia] I'm speaking for you. I'll let you carry on.

Thirlby: Yeah, I'll speak for you now. (laughs) Max plays a handsome action hero, who becomes sort of the de facto leader of the group after things start to get a little scary and dangerous and crazy. And actually, sort of towards the beginning of the film when our characters first meet, I'd say my character quite has the hots for him, and says many times that she thinks he's cute, cuter than his friend.

Minghella: It's a mutual feeling, even though I don't [say] it vocally, I'm thinking it.
There's more at the link. [Collider]
---
Skyfall
Here are some set photos from the finally filming new Bond movie, featuring Daniel Craig and Naomie Harris, who plays Agent Eve in the film. [Screen Rant]
---
Cabin in the Woods
Here's a couple promo photos for Joss Whedon and Drew Goddard's horror movie. [IGN]
---
The Annihilator
Real Steel and The Bourne Legacy writer Dan Gilroy has been hired by Magic Storm Entertainment to write a script based on the Stan Lee-created superhero of Chinese descent. Stan Lee describes his reaction in that inimitable Stan Lee fashion:
"Words can't express how excited I am about this project. It's based on the most incredibly original and unique superhero I've created in a long time. Best of all, we're excited to be working with a writer as talented as Dan Gilroy to helm the script. I expect the startling saga of our hero, The Annihilator, to become one of the most talked-about and popular franchises for a new generation worldwide!"
---
7500
Quarantine actor Johnathan Schaech has reportedly joined the cast of this supernatural thriller set on a transpacific flight. Shaech will reportedly play the pilot. The rest of the cast includes Ryan Kwanten, Amy Smart, Leslie Bibb, Jamie Chung, Alex Frost, and Nicky Whelan. [Shock Till You Drop]
---
Doctor Who
Here's a video featuring two short clips from the Christmas special, "The Doctor, the Widow, and the Wardrobe." [Life, Doctor Who, and Combom]

Here are some scans of various articles on the Christmas special. [Life, Doctor Who, and Combom]
Here's an interview with Matt Smith.

---
Fringe
Here's a set video featuring Joshua Jackson, John Noble, and Anna Torv from their recent filming in the Vancouver suburb of Cloverdale. [Fringe Spoilers]

And here are some set photos, including some excellent shots of a very stylish looking Joshua Jackson sporting a shotgun. [Hollywood North On Location]
Here are some highlights from a set report from the Cloverdale filming:
-Crazy knife wielding man is shot twice by Olivia
-Crazy knife wielding man's wardrobe was labelled 'Big Willy'
-Fake signage included 'The Maple Tree Diner' and the 'Witfield Inn (where comfort comes first…)
-The town is supposed to be abandoned and there is some kind of windstorm occuring.
-The way Olivia, Walter and Peter interacted, especially the Bishops, in the scene outside suggests that things may be back to normal/Blueverse. But everyone remained tight-lipped about any actual plot developments when I asked.
Check out the link for the full set report. [Let It Play Out]
---
Terra Nova
Here's a sneak peek at next week's episode, "Within."

Here's a description for the two-part finale, "Occupation" and "Resistance":
THE COLONY MAKES A LAST STAND TO FIGHT THE FUTURE ON THE SPECIAL TWO-HOUR SEASON FINALE OF "TERRA NOVA" MONDAY, DECEMBER 19, ON FOX

In the two-hour season finale, the 11th Pilgrimage arrives in Terra Nova and the mysterious Phoenix Group in 2149 makes its move to pillage the past with the help of Lucas and Mira. Meanwhile, Jim and Taylor team up in a last stand against the Phoenix Group, a colonist makes the ultimate sacrifice and a decision is made that will change life in Terra Nova forever
Although the first season wraps up this month, there reportedly won't be any decisions made on a season two pickup until the new year. For what it's worth, reportedly "everyone involved remains confident and optimistic." [SpoilerTV]
---
Person of Interest
Tonight's episode focuses on the backstory of Taraji P. Henson's Detective Carter, whose social security number is the latest to emerge from Finch's machine. The episode will show her time in Iraq and also introduce two of the people she most respects and trusts, including a criminal informant. The episode will also place Reese in a tricky predicament where the only way to save her life is to risk revealing his identity to her. [TV Guide]
---
Chuck
Here's two sneak peeks for this week's episode, "Chuck vs. the Hack Off."

It's already been revealed that the Christmas episode will feature Chuck and Sarah both partaking in some extramarital kisses, but apparently those pale compared to something else Sarah has to hide from Chuck, something which "will change the dynamic of their relationship forever." [TV Guide]
---
Once Upon a Time
The sheriff's identity will be revealed in this week's episode, and executive producer Edward Kitsis says, "I would say you would know exactly who he is and what his role is when you find out." [TV Guide]
---
American Horror Story
Here's some behind-the-scenes videos on the show's costume design, as well as that all-important topic: the making of Rubber Man.

---
Being Human (US)
Here's a bunch of promo videos for the second season.

---
Sanctuary
Here's a sneak peek at episode ten, "Acolyte."

---
The Secret Circle
The CW has released a photo of Jake Armstrong actor Chris Zylka, strongly suggesting he will be back for episode twelve. He also has reportedly been promoted to a regular on the show. [KSiteTV]
---
Additional reporting by Gordon Jackson and Charlie Jane Anders.