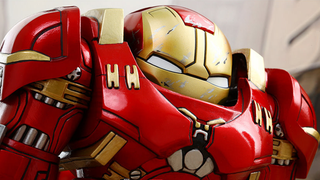 Thanks to Age of Ultron, we've had plenty of wonderful Hulkbuster toys to gawk at over the last few months. But outside of the buildable Lego figure, somehow hardly any of them actually fit a full Iron Man figure inside. Step forward and be counted among the few that do, adorable little baby Hulkbuster.
Dubbed a "Series 1.5" release, this Cosbaby Hulkbuster vs. Hulk set by Hot Toys is the latest part of their Age of Ultron line of cutesy little figures based on the Marvel superheroes. The set includes new Hulk and Hulkbuster entries to the line, which both stand around 13.5cm tall as well as a scuffed-up "Battle Damage" version of the Mk 43 Iron Man from series 1 that you can fit inside the Hulkbuster toy.
As you should do! Part of the whole appeal of the Hulkbuster is seeing it form around Iron Man as a gigantic exosuit, and yet barely any toys for it let you put an Iron Man figure inside one for fun (or, there's somehow not been a "build your own" version that's an Iron Man figure with a bunch of snap on parts to create the Hulkbuster. That would be so cool!). It's a little feature, a pointless one considering you wouldn't know the difference with the Hulkbuster closed up, but it's still a neat addition. It's all the cooler knowing this adorable little Hulkbuster houses its equally adorable creator.
The Hulk vs. Hulkbuster set will be available in August, for around $95.
[via Toy-People]
---
You're reading Toybox, io9's blog for all things pop culture. From merchandise to awesome fan creations, TV recaps and critical commentary on the hot topics of the day, you can find it all here!