A XXX-rated porn parody based on Mork and Mindy might sound like a terrible, awful idea — and then you see the finished product and realize that it's much worse than you ever contemplated.
Don't worry, the above clip and the one below are both work-safe — apart from some bad language.
Mork and Mindy: the Dreamzone Parody features Evan Stone doing his absolute best to try and imitate Robin Williams' trademark cocaine-infused patter and slapstick, against a backdrop of canned laughter and authentically tatty sets. And it's actually physically painful to behold. We've seen Evan Stone do Captain Kirk before, and it wasn't too bad — but when he stars trying to strangle himself with a floppy rubber dildo while making Williams-esque squawks...
Just check out the above scene, in which Mork from Ork is assigned to go to Earth and study our sexual behaviors. "You will go to Earth, no matter how many vaginas they have," the booming voice of Mork's superior intones. Honestly, I can't even begin to sum it up, especially the parts where Mork begins discussing the "secondary vagina." (Later in the film, Mork tricks a fully clothed Mindy into sitting on his face, so he can look for her secondary vagina. Yes, really.)
As I mentioned, these clips are work-safe except for dirty words. In fact, this DVD came with a "friendly" edit, which contained only the PG-rated scenes, for the tiny minority of people who only wanted to see Evan Stone's Robin Williams impression. Including, I guess, all of us.
G/O Media may get a commission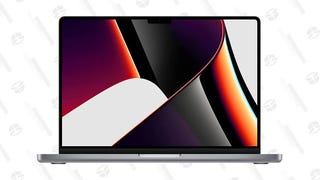 Save $300
2021 14" 1TB MacBook Pro
There's one genuinely funny bit in the entire "movie" — when Mork decides he needs to hydrate. Only, instead of sticking his finger in a glass of water to drink, he sticks his... well, you can probably guess. Nanoo Nanoo, motherfuckers!
Later on, Mork is besieged by the Nekrotons, who have gained unimaginable power from accessing Mindy's "pleasure holes." (I know, I know.) And even Mork's powerful appendage is helpless — so he calls on a friend for help. Fonzie. Check it out below: