Artist Adam Ryder specializes in taking Earthly artifacts and removing them to another plane of existence, creating a jarring fusion of the weird but real, and the just plain weird.
The image above comes from his project Areth: An Architectural Atlas, which takes otherworldly Earth buildings and relocates them on an alien planet. Ryder gathered the photos of strange buildings in Areth by traveling across the U.S., taking pictures, and then transformed them into something alien-looking.
For another project, Selections from the Joint Photographic Survey, he scanned antique photos from the Library of Congress and manipulated them to look like a time and place that never existed. Ryder tells Wired, "Both Areth and Survey ask the viewer to re-imagine the known as the unknown. And hopefully invite viewers to use their own perspective for creative re-imagination of their environment."
Top image: Generational Aggregation, Gamma, from the series 'Areth - An Architectural Atlas'
Check out some photos from Ryder's projects below, and there are tons more at the links. [Areth: An Architectural Atlas and Selections from the Joint Photographic Survey, via Wired]
G/O Media may get a commission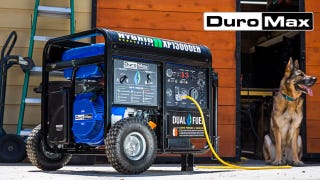 Black Friday Sale
DuroMax Generator Sale
Atmospheric Observation Outpost, Omicron, from the series 'Areth - An Architectural Atlas'
Fabrication Facility, Phi, from the series 'Areth - An Architectural Atlas'
Field Emitter, Epsilon, from the series 'Areth - An Architectural Atlas'
Cultural Conventicle, Kappa, from the series 'Areth - An Architectural Atlas'
Nodal Residence, Xi, from the series 'Areth - An Architectural Atlas'
Apicultural Manufactory, Alpha, from the series 'Areth - An Architectural Atlas'
Monastic Retreat At Betharbel, from the series 'Selections from the Joint Photographic Survey'
Selucian Retreat At Succoth, from the series 'Selections from the Joint Photographic Survey'
Sea Temple, from the series 'Selections from the Joint Photographic Survey'