The latest Star Trek 2 news is the most optimistic we've heard in ages...but it might be delayed even more than we thought. Jon Favreau talks mixing genres in Cowboys & Aliens. Plus who is taking over The Walking Dead?
Spoilers from here on out!
Top image from The Walking Dead.
The Avengers
Marvel Studios head Kevin Feige explains how the Hulk has changed in appearance since we last saw him in The Incredible Hulk (other than transmogrifying from Edward Norton to Mark Ruffalo, of course):
He'll be about the same size he was in "The Incredible Hulk" [which was about 9 feet tall] or maybe a little bit smaller. His muscles won't be quite as cut. We figure he's been the Hulk now for a few years and [his physique is changing]. He's not as cut or as ripped as he was in "The Incredible Hulk." The most important thing is that face. As you can already see in that concept painting, it is — more than any Hulk that's ever been done in live action — a Hulk that lets you see the actor in there. You will be able to see Ruffalo in there. That was a big revelation for us. It's just a concept painting, but in that you can see the [influence of Marvel Comics pioneer and original Hulk artist Jack] Kirby, as people have already pointed out, but also, and equally important in this case, Ruffalo's eyes and his cheek structure. It is him.
Fiege acknowledges that this is a departure from the approach taken in the previous Hulk movies, and he explains why they went in that direction:
It was something we actively avoided before. Hulk was Hulk, he's not any one actor and Hulk should look like Hulk. It was like Iron Man's armor, in a way, it wouldn't change depending on the actor wearing it. But we've taken a different approach because Hulk is Banner and, frankly, we came to question our approach. Why are we not doing it this way? So we did a few designs that put Ruffalo into it, and we immediately saw how much more you feel for the creature. When you keep that connection going between Banner and the Hulk and you have characters around him trying to reach Banner inside - "Bruce, calm down," and all of that classic Hulk stuff - it means more if you see the same actor throughout.
G/O Media may get a commission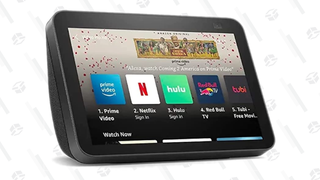 He concludes that they avoided this beforehand because they thought it would look silly to see elements of the Bruce Banner actor inside the giant-sized Hulk, but they're now confident that they have the visual effects technology to make it look good. [Hero Complex]
---
Star Trek 2
The latest rumors say that J.J. Abrams is working with the writers to get the script ready, that he almost certainly will end up directing the movie, and Paramount is currently choosing between either a December 2012 or Summer 2013 release date — the first time we've heard the movie might get pushed back all the way to 2013. All of this seems eminently reasonable, but I'd advise taking this all with a grain of salt until we hear something more official. [Deadline]
Co-writer Roberto Orci explains how the Enterprise features in this one:
"They own the ship from day one, in the movie. It's their home now, first one was how do they get on that ship together. Now it's all the characters are established, including the Enterprise. It's certainly a discussion point of how do you address [Kirk's] relationship to that ship, and [the crew's] relationship...That's gotta go into the soup somehow, but it can't be the same way as how it was [in the pre-2009 Trek universe]."
[IGN]
---
Cowboys & Aliens
Jon Favreau explains how he drew on overlapping elements from alien movies and westerns:
"Flashbacks occur in both. That's one of those intersection moments if you look at 'Fire in the Sky' and you look at when people remember alien encounters or abductions, they have spotty memories with it...And if you look at 'Once Upon a Time in the West' or 'The Wild Bunch,' there's great use of flashback. We wanted to create a language that would work for both...We didn't want it to be a huge, huge alien invasion battle. We didn't want it to feel much bigger than a cavalry charge or the Alamo."
---
Total Recall Reboot
i'mHere are a couple set videos from Toronto, giving us a look at Colin Farrell and Jessica Biel on set.

---
Fright Night
Here's an international trailer.

---
Underworld Awakening
Scott Speedman has confirmed that he will not be back as Michael for the latest Underworld movie. [ShockTillYouDrop]
---
G.I. Joe 2
The movie has reportedly set a release date of June 29, 2012, and its title may or may not be G.I. Joe: Retaliation - there's quite a bit of uncertainty on that point. [Deadline via ComingSoon.net]
---
Doctor Who
Karen Gillan discusses Amy's relationship with River and her future in general:
"Motherhood would change any woman, so it's definitely going to be the same for Amy. We're just going to see that relationship really explored between River and Amy... It's not brushed over by any means...We met [Amy] as a child, we've seen her as a young woman, we've seen her run away in the Tardis, get married and now she's had a child. I would love to see her whole life play out, because we don't normally get that with a companion."
She also revealed that "Let's Kill Hitler" will examine Amy and River's "weirdest motherhood ever", and she gave the name of "a really interesting villain" that we will see in the second half of the series: the Tessalectar. [Zap2It via Combom]
Tom MacRae discusses his episode, "The Girl Who Waited":
I went down onto the set quite a lot and it was great to see it filmed. It's a real tear-jerker of an episode and it's very much focused on Karen. Her acting in it is amazing. I know she'll break the viewers' hearts in two when they watch it, it's so emotional.
Toby Whithouse has revealed some key details for his episode, "The God Complex." Here's a roundup:
- The Doctor, Amy and Rory are trapped in a 1980′s style hotel
- They've lost the TARDIS
- The geography of the hotel keeps shifting and changing
- There are others trapped in there with them - two humans and an alien
- Each hotel room contains a different nightmare
- Some of these nightmares are the personal nightmares of the Doctor, Amy, Rory and the other people in there
- Other nightmares belong to people who have been in the maze before and have died there
- It will be a darker story than his last episode, "The Vampires of Venice"
[SFX via Doctor Who TV]
---
Fringe
Here's an interview with the cast.

---
Game of Thrones
Executive producers D.B. Weiss and David Benioff previews season two:
Weiss: "There will be blood."
Benioff: "A few things from book 3 will be in [Season] 2 actually. It's a lot of journeys. Jon Snow is wandering north of the wall with the Night's Watch to find out what's going on up there, and Theon Greyjoy is traveling to his ancestral homeland."
Benioff also confirmed that they will be tweaking the name of Theon Greyjoy's sister Asha to differentiate her from the season one character Osha:
"We're a little bit worried about the Osha/Asha sounding too close together. So it might be a slightly different name."
---
The Walking Dead
It's looking increasingly official that Frank Darabont has indeed stepped down as showrunner, and now we know his replacement: current second-in-command and former The Shield executive producer Glen Mazzara is reportedly taking over. [EW]
Here's a set photo. [SpoilerTV]
---
Secret Circle
Here are a bunch of character posters for CW's upcoming teen witch series. [TV Line]
---
Additional reporting by Gordon Jackson and Charlie Jane Anders.