When Nike finally released the Nike MAG (aka the shoes Marty McFly wore in Back to the Future II), we couldn't believe it. Did we just time travel? Has 2015 arrived already? Where's Doc? Those are the same questions you'll be asking at Gizmodo Gallery, because we'll be showing off the Nike Mag all week.
Conjuring up images of DeLoreans with flux capacitors, you'll immediately recognize the iconic design, familiar contours and all around awesomeness of the original kicks, complete with a fresh electroluminescent Nike strap and LED panel that lights up just like all futuristic shoes imagined in the '80s should. These MAGs are so much like the ones Marty McFly wore that you'd expect hoverboards, automatic jackets and dehydrated pizza to be real too.
G/O Media may get a commission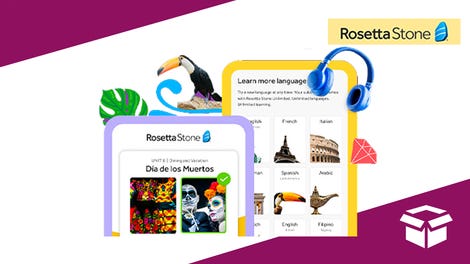 Extra 20% off
Rosetta Stone Lifetime Subscription - All Languages
The best thing about the Nike MAG is that not only do they send us back in time (sort of?), they're also helping the future. Nike made 1510 pairs of the MAG and auctioned them all off, donating the net proceeds ($9.4 million) to the Michael J. Fox Foundation in hopes of finding a cure for Parkinson's Disease.
It's fitting, actually. The Back to the Future shoes were never just shoes. They were emotion, memories and hope mixed with reinforced mesh, clear soles and laces. They captured the imagination of audiences, represented the childlike wonder living in all of us, and made 2015 seem like the most futuristic year ever. Now they're making us oh so excited for Gizmodo Gallery 2011. [Nike]
Gizmodo Gallery 2011 @ White Box
329 Broome Street. New York, NY, 10002
Monday, December 5th
Press Day, Press Only
Inquiries to media@gizmodo.com
Tuesday, December 6th
12noon – 5pm
All Day Special Event: World's Largest Multi-Touch LCD
Party: Opening Party Invite Only 7pm - 10pm
Wednesday, December 7th
12noon – 8pm
Special Events (secret!)
Party: Gizmodo Reader Meetup and Nerf Party 9pm - 11pm
Thursday December 8th
12noon – 8pm
Special Event at 6pm: Home Theater How-To and Demo Session
Party: Kotaku Reader Meedup with 3D Gaming
Friday, December 9th
12noon – 8pm
All Day Special Event: MarkerBot Demos
Special Event at 6pm: Artist Talk - Micah Ganske's MakerBot Experience
Saturday December 10th
11am - 8pm
All Day Special Event: Free Pictures with Lego Santa Yoda
Sunday December 11th
11am - 6pm
All Day Special Event: Free Pictures with Lego Santa Yoda
Read more about the Gizmodo Gallery here and follow @gizgallery on Twitter. Special thanks to Land Rover - without them, there would be no Gizmodo Gallery.