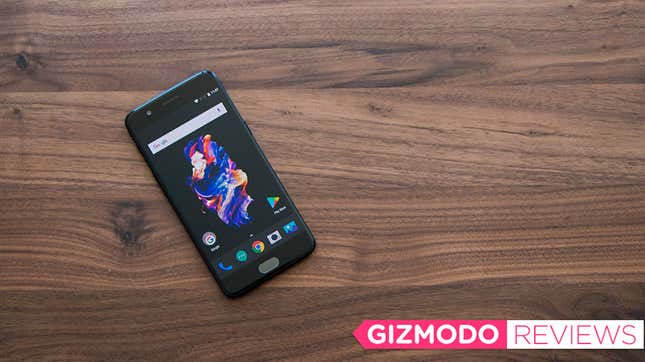 The OnePlus employees seemed a little annoyed when I asked how they felt about people comparing its new device to an iPhone. Sure, both phones feature dual camera designs. Yes, the OnePlus 5 has curves that look a lot like an Apple product. Ugh, fine, it's a really good phone, too. What's the big deal?
Here at Gizmodo, we're longtime OnePlus fans. From the time the little startup released the impressively excellent and cheap OnePlus 1 back in 2014, we've been consistently impressed with the company's ability to compete with hardware from Apple and Samsung, and to do so with only a staff of a few hundred people. There have been bumps along the road, like hardware shortages and an embarrassing misstep with a USB-C cable that damaged non-OnePlus devices. But still, there's a good reason we called the OnePlus 3 "the best cheap phone you can buy." The OnePlus 5 is the company's slightly more expensive follow up, and the phone holds up to the OnePlus promise to be a "flagship killer." (Fun fact: there is no OnePlus 4, because the number 4 is bad luck in China.)
I honestly think the OnePlus guys were faking their annoyance, when they brushed off my iPhone remark. Shouldn't a tiny company like OnePlus being favorably compared to Apple, the world's richest company, be a bit of a coup? Companies have tried to be iPhone inspired before, perhaps most notably in 2015 when HTC released an iPhone clone that simply didn't work that well. However, the OnePlus 5 might even work better than an iPhone. It's also proof that the OnePlus business model is winning. The Shenzen-based manufacturer only makes one thing: Android flagship phones. It sells these unlocked phones on the internet for around $500, a couple hundred bucks cheaper than the newest devices from competitors like Apple and Samsung. And with the latest model, announced today, OnePlus can confidently say that its device rivals those competitors in every way.
The OnePlus 5 is slim, light, and fast. The phone's octo-core Snapdragon 835 processor is the same one featured in the new Samsung Galaxy S8, and the dual camera design features both a 16-megapixel Sony sensor and a 20-megapixel Sony telephoto camera that enables a bokeh-tastic portrait mode. The iPhone 7 Plus offers 12-megapixels for its portrait mode which also uses two lenses and some software tricks to add the illusion of depth of field. (OnePlus claims its new setup is "the highest resolution dual camera system available on any smartphone.") You also get up to 8-gigabytes of RAM and 128-gigabytes of storage with a OnePlus 5. The display is gorgeous. The ceramic fingerprint sensor on the front is terrifically fast. The 3,300 mAh battery can drink up a day's charge in 30 minutes. It's a really nice phone!
It's also an Android phone, which is probably a deal-breaker for Apple aficionados. If you're okay with straying away from the Cupertino crowd, though, you're going to have a blast with what OnePlus has done to Android. Unlike the heavy-handed skins from original hardware manufacturers (OEMs) like Samsung or HTC, the so-called OxygenOS that comes on the OnePlus 5 actually looks a lot like stock Android, and the company promises that it's delightfully free of bloatware. OnePlus just added a few features that are popular on other Android phones. There's even a reading mode that's supposed to make the phone screen look like a black-and-white Kindle—although the feature is more of a black-and-tan effect. There's a screenshot mode that will capture an entire page, so you don't have to scroll down and take multiple screenshots. There's a night mode that automatically adjusts the display's colors when the sun goes down. There's even something called "Secure Box" that lets you store sensitive files behind a pin code or fingerprint.
Fun features are one thing, but none of that matters if the phone doesn't perform. Here's the thing: the OnePlus 5 performs. For day-to-day operations like sending texts, surfing the web, or checking email, the device is tremendously fast. More processor-heavy tasks like playing games take time, but the performance isn't any worse than any other flagship. SimCity, for instance, loaded at nearly the exact same speed on the OnePlus 5 as it did on an iPhone 7. The new OnePlus fingerprint reader, however, is noticeably faster than an iPhone's. Almost too fast.
Now about that dual-lens camera. It is, indeed, pretty slick. It also seems like OnePlus realizes that all flagship phones are basically good and fast enough. The camera is one area that can help a smartphone differentiate itself from all the other black slabs of glass out there. So the company didn't just build a facsimile of the dual camera setup on the iPhone 7 Plus. It actually built a better one with beefier sensors and slicker software. In fact, one of my favorite new things on the OnePlus camera isn't the "Portrait Mode" that gives you a DSLR-style depth effect. It's actually a new "Pro Mode" that features a histogram, a level, and full control over other settings like ISO, white balance, and shutter speed without downloading an extra app. All that said, the regular camera mode works great, too.
Yet there's a downside to any OnePlus phone. It is unavoidable. There's only one. If you don't like the size, too bad. Every OnePlus iteration is a take it or leave it proposition, since OnePlus only offers a single design. (The OnePlus 5 does come in two colors and configurations, but the design is otherwise the same.) Me, I think the OnePlus 5 and it's 5.5-inch display is too big, although it does look gorgeous. My favorite phone is the 4.7-inch iPhone, so there's that bias. However, the OnePlus 5 is noticeably wider than a Samsung Galaxy S8+, and even if you have long thumbs, you'll struggle to hit the upper lefthand corner of the screen without moving your hand or using the other one. For what it's worth, though, the OnePlus 5 is slightly thinner than the S8+ as well as the iPhone.
The other bummer about OnePlus is you can only buy the devices online. That means, if you want to hold the phone in your hand, you're almost certainly going to have to buy one. OnePlus is doing some pop-up shops in the United States for the first time, so if you live near a big city, you might be able to check one out before buying. There's a shop in New York City opening today, in fact. But if you live in rural Tennessee, where I grew up, that won't be much of a help.
The OnePlus 5 is inevitably a tradeoff. You can buy the phone online and hope you like it. Every model is unlocked, features a dual SIM, and works anywhere in the world thanks to support for 34 GSM network bands. The 64-gigabyte model costs $480, and the 128-gigabyte model costs $540. Once again, that's hundreds of dollars less than a Galaxy S8 or an iPhone 7 Plus. Sure, you can't go to a shiny white store and play with the device before you buy it, but that privilege isn't really worth the extra money anyways.
So if you want an extremely capable phone with one of the best cameras on the market, give the OnePlus 5 a try. If you've been thinking about ditching your iOS device but want a phone that feels familiar, the OnePlus 5 is a great choice. If you like saving money and owning nice things, heck, buy the OnePlus 5. If you hate it, you can always send it back.
README
The OnePlus 5 is a cheap smartphone ($480 for the 64GB, $540 for the 128GB) that operates like a much more expensive one.
A new dual-lens camera (a 16MP main lens and a 20MP telephoto lens) offers an iPhone-like portrait mode that looks pretty damn great.
The 3,300 mAh battery is slightly smaller than the OnePlus 3's, but thanks to some software tricks, the OnePlus 5 actually has a longer battery life.
The OxygenOS runs on Android 7.1.1 Nougat and looks just about as clean and wonderful as stock Android.