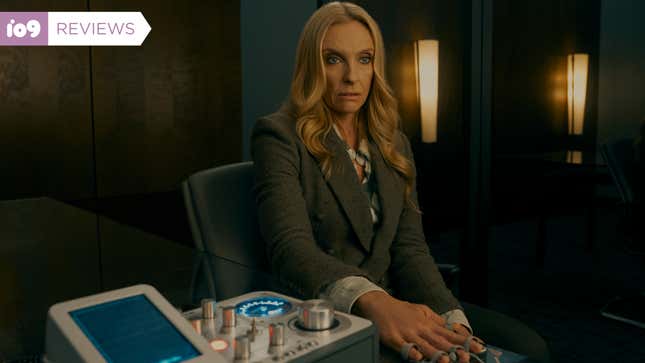 In The Power, the Prime Video adaptation of Naomi Alderman's 2017 sci-fi novel of the same name, women begin to spontaneously emit electricity. Across the world, for seemingly no reason, young girls activate a latent organ–called a skein–in their bodies that allows them to generate and then direct electrical currents. They call this the power. As women of all ages get the power over the course of the series, a revolution takes place as girls take back what patriarchal society has taken from them... and replace one power imbalance with another.
Boogeyman Star Sophie Thatcher Wrote Howl's Moving Castle Fan Fiction | io9 Interview
Seattle Mayor Margot Cleary-Lopez (Toni Collette) and her daughter, Jos (Auli'i Cravalho) make up the core narrative, but the ensemble is strong. There's Roxy (Ria Zmitrowicz) the bastard daughter of a mob boss; Allison/Eve (Halle Bush) a traumatized young girl who hears the voice of god; Tatiana (Zrinka Cvitesic) the wife of a corrupt president in Eastern Europe; and lastly Tunde (Toheeb Jimoh) the male, Nigerian journalist who first broke the story of the power.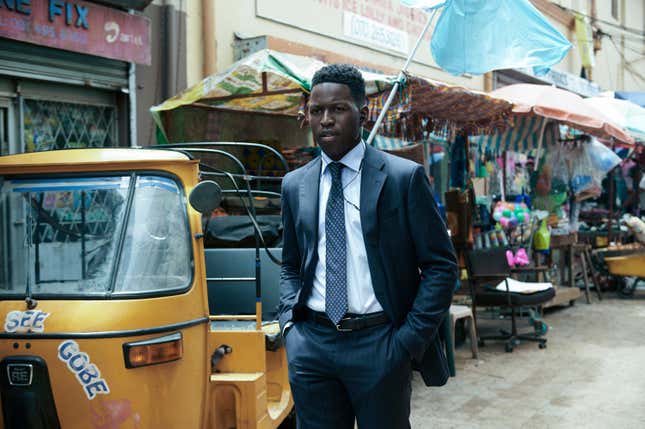 These characters, for the most part, do not interact with each other. (The exception to this are Margo and Jos, whose stories are not about each other, and their relationship is a B-plot amid their own personal problems.) These characters' stories are mostly separate, and they deal with their drama and collective story of the power as it fundamentally changes the structures of power across the globe. From teenage dating drama to a women's revolution in Riad, Saudi Arabia, women begin to use the same bodily threats that have been held over them for years against men–sometimes unintentionally.

While the message is heavy-handed, there's no denying that amidst the various legislations and in the current political climate, the mirrored veil of The Power is a little too close to home. There's a scene where the government is discussing what is essentially Hormone Replacement Therapy to use as a preventative measure for skein activation in young girls, echoing fights that trans people have every day to determine their bodily autonomy for themselves. The women marching through Riyadh in Saudi Arabia feel like a reflection of the protests against hijab restrictions and violence in Iran that are still occurring. There are moments in The Power that feel preachy, but they manage to pull back now and then.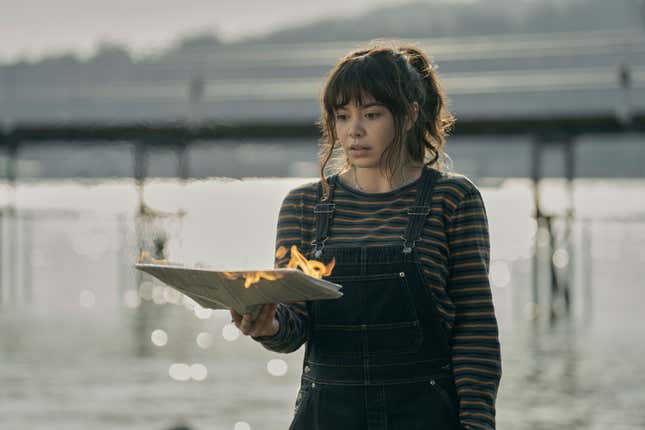 There is an ultimate truth to The Power. It's not that women are all weak, or that men are all bad people, or even that government regulation of bodies will always be an over-reach personal autonomy; the truth of The Power is that power is power, regardless of sex, and when a certain group of people are given power, they will take it and use it. The systems of control might change, but the power structures will remain, more or less, the same. Just with a different group standing on top. The message isn't about gender, although that is the conceit that has underpinned the satirical reversal. The message is, really, about how systemic oppression cannot be overturned by using the same playbook as the oppressor.
While breaking down these structures isn't really of interest to the show, it still provides an angry, visceral experience while watching women gain something that they have never collectively had. There is, however, little sympathy for men in general in the film. While only a few "good" male characters get treated kindly, most other men are shown in situations where they are actively harming women. This is by nature of the story's conceit, but leaves a bit of an odd feeling upon reflection.
Still, The Power is emotionally cathartic. Its near-future/contemporary setting gives it urgency, especially surrounded by the current, real-world, political atmosphere. While there is a touch of American/Eurocentrism to the show, it's clear that Alderman and the creators are trying to create a world where people can re-imagine many cultures as women grapple with the power. The plots are solid, and I personally found Roxy to be one of my favorite characters. (For the record, I support both women's rights and women's wrongs. I love when they do bad things.) I also appreciated that trans folks were given representation in the series, even if it was minor. An intersex character takes center stage as a secondary character, which was an incredibly refreshing acknowledgment of how complicated biological sex is, and how it has never been binary.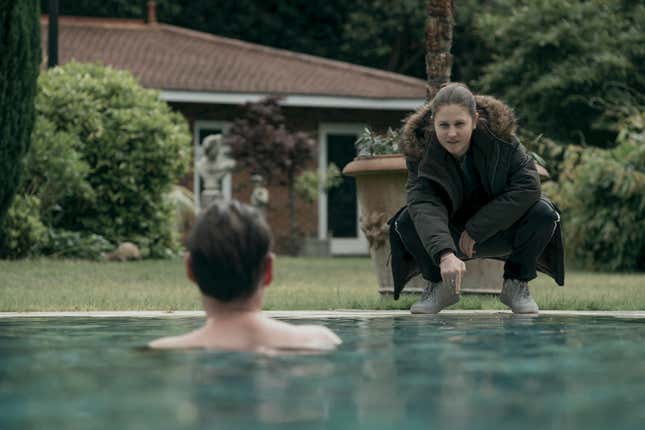 The show is more than its messaging, and although political commentary is baked into every single character and plot point, the show is focused on demonstrating how individuals deal with the power. It is disinterested in feminist utopia, which is to its benefit—this story is about individuals. Some girls just want everything to go back to "normal," others revel in their power, another goes for a run in the dark. For some people, the power simply becomes another complication, for others, it becomes something terrifying that must be hidden. It's very X-Men, in its own way. Just without the goofy comic book stakes.

The characters and their struggles are well done, and the show offers glimpses inside of the lives of these women as they use the power to achieve their goals. With condensed plotting and clear, sometimes overly-articulated motivations, each character threatens to be one-dimensional. But within their stories their interactions with other characters make them more sympathetic, more natural, and give them a depth that simply would be hard to pull off if all the stories were deeply entwined and we were expected to root for one character over another.
The Power is, more or less, uncomplicated in the way it holds up a mirror to society, but exceptionally poignant in its execution. A little bit Handmaids Tale, a little bit X-Men, a touch of girlbossing a little too close to the sun... you get the idea. Regardless, The Power is a captivating watch amid its effective and sharp satire. The actors commit fully to their roles, creating an intimate look at the support systems they build, or break, around them as they grapple, vye for, and embrace the thrill of power.
The first three episodes of The Power will premiere on Prime Video on March 31. Episodes will be released every Friday afterward.
---
Want more io9 news? Check out when to expect the latest Marvel, Star Wars, and Star Trek releases, what's next for the DC Universe on film and TV, and everything you need to know about the future of Doctor Who.