When Sony had its big PS3 press day a few months ago, the world's elite gaming journalists stopped bashing the console long enough to write about how stunning the PS3's visuals were in person. But, I'd just seen it and I wasn't blown away. The difference between my experience and that the others had? I saw my demos on a good, but not great LCD. So I reasoned that the PS3's high praise was in part due to the monitors Sony paired the PS3 with.
This is the same monitor that Sony used on the press day.
And it looks exceedingly good in all its 1080p glory (I've included high res shots of the screens.) But not all is perfect with this series of TVs.

First, an introduction. The 40-inch Bravia KDL-40XBR3 LCD has a couple of interesting things going for it, 1080p res aside. It uses a cold cathode fluorescent backlight that has allows for a bright picture with an exceptional color range. It uses a set of visual processors for upscaling lower def pictures, as well as edge sharpening, noise reduction, etc. I've gone and spared you the code words for these techs.
My experience with the XBR3 LCD includes about a month with the ps3, wii, Dish Network satellite TV (including HD channels), and HD-DVD and Blu-ray movies via forementioned console. Along the lines of real world benchmarking, I was pleased with the black levels, which I found to be near the top of the class (I've heard, via a CNet review of the XBR2, that the Sharp's are better) and brightness was all I could ask for. I did notice limited background noise in solid colors on some HD films, which I did not enjoy. It's possible that turning off most video processing could fix this, since HD sources like this are so clean that the TV should just leave it alone.
G/O Media may get a commission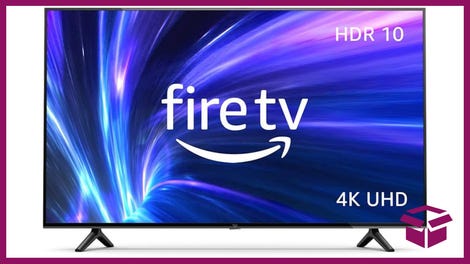 42% Off
Amazon Fire TV 50" 4K Smart TV
I also hated the menu system, and the source switching proceedure was painfully awkward. (click, wait for the source titles to come on a second later, repeat til you find your video.)
Interesting fact: The $4300 TV itself is for all performance purposes identical to its $300 cheaper relative, the XBR2. But the XBR3 has a black (instead of silver) finish, a longer warranty, and a different remote. The silver looks shit to me, and is only a deal breaker because the extra bezels cost the $300 you thought you were saving.
The glass edges are bad ass. And this thing has 3 HDMI inputs, including one on the side. Like all Sony sets this year, there isn't Picture-In-Picture. Nor does this set have cable card. Note, I don't give a shit about cable card. Reminds me of combination TV/VCRs.
The problems with the XBR aren't with this set, but are worth noting. The XBR3 in the larger 46-inch size is supposedly having inconsistent backlighting problems; those who have beef see clouds when the screen is set to black. According to the fans of the XBR2/3 series at AVS Forums, you're safer with the 40-inch flavor, which is theoretically easier to make.