The Razer Blade Stealth has always been a pretty dang nice 13-inch laptop. Not the best laptop, and not the worst. A good alternative for people who want slick Mac-like design in a Windows computer. With its latest refresh of the Stealth, Razer is wisely moving away from its Apple influences and has started borrowing more from its friends in Windows-land. The result is one sharp looking laptop.
And I mean that literally. The curved case is gone, and the Stealth is now all straight lines and defined edges. Looking at it, there's a hint of the Surface Laptop, but the Stealth is blockier and thicker owing to what should be much more powerful guts inside. And like the Dell XPS 13, the bezels are slimmer—just 4.9mm wide on the sides. This means the new Stealth is also the smallest Stealth yet. Razer claims its bezels are 60-percent thinner than the last generation and that the surface area over all is smaller.
It looks like a mighty fine laptop, but Razer stressed that despite the gamer pedigree, the Razer Blade Stealth is not intended to be a gaming laptop. It's just meant to be a really good one. That's why Razer ditched its trademark black and neon green color scheme on the device. Instead of a loud logo that marks you as a gamer every time you pull the laptop out in a coffee shop or library, there's now a subtle black logo on the black case, creating an attractive two-tone effect that will give you that gamer cred you crave under the right lighting.

G/O Media may get a commission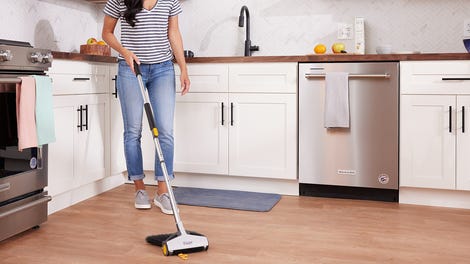 BOGO 50% Off
Flippr - BOGO 50% Off
When you open the device up, there are traces of that gamer aesthetic—mainly the keyboard which has a customizable backlight. Previous Stealth laptops allowed you to customize each key's light individually, but Razer opted for a single zone (the entire keyboard) backlight this year, citing a desire to maintain robust battery life—up to 13 hours off of the 53.1WHr battery.

Razer changed the key switches too, moving to a new rubber dome switch that takes 63g of force to depress. That makes them stiffer than the keys on previous Stealths (and a lot of other laptops too). I found them pleasant enough in my brief interaction with the laptop—though not quite as nice as the Lenovo Thinkpad X1 Carbon, which still has the best key switches found in any laptop right now.

Razer is introducing multiple versions of the Razer Blade Stealth, presumably, to meet the needs of both gamers and non-gamers alike.
The cheapest version of the device will retail for a still very pricey $1,400 and comes with a 1080p display, 8GB of RAM, 256GB of SSD storage, and a quad-core i7-8565U CPU.

Jumping up to $1,600 ups the RAM to 16GB and adds a Nvidia MX150 4GB GPU to the laptop. Discrete graphics in a thin 13-inch laptop isn't common (it's one of the reasons we adore the Huawei MateBook Pro X), and that definitely distinguished the Stealth from competitors like the Dell XPS 13 and HP Spectre. While it won't let you play Far Cry 5 at the highest resolution, it should be just fine for 60FPS Overwatch or Fortnite.
The final version will increase the price ($1,800) but increases the storage to 512GB, and adds a glossy 4K display. Razer did not have information on how that higher resolution display would affect battery life—but assume that it will get less than the 13 hours Razer claimed for the base $1,400 model.
The new Razer Blade Stealth is available from Razer's website starting today. We'll have more information on its battery life and general performance when we review it later this month.
---
Update (4:59pm EST): Razer clarified to Gizmodo that the bezels on the display are 60-percent thinner and that Razer was not claiming that the device itself is 60-percent thinner.