As the folks at Razer would tell it, the plan was always to make a phone. No one at Razer was quite sure what that phone would look like, or precisely how it would be a "gamer" phone—Razer's peripherals and laptops are built primarily for gamers—but the phone was a distant dream. Now it's a distinct reality, and at $699, the new gaming-focused Razer Phone could even be a solid alternative for people tired of slick glass-backed OLED phones like the iPhone X and Galaxy S8.

"Right now there's one phone design.," Tom Moss Senior Vice President of Mobile at Razer told Gizmodo. "It is 18 by 9 form factor, OLED, with no bezels." The new Razer Phone is very different, resembling last year's crowdfunded Nextbit Robin more than any phone from the big guys. That's because Razer actually acquired Nextbit late last year for the express purpose of having the Robin team build the new Razer Phone. At the time we praised it for its fun color scheme (It was mint green! The Razer is black.) and nice design. We also worried about how useful Nextbit's cloud feature would be—where it would store rarely used apps in the cloud and download on demand as needed. Thankfully, that cloud storage thing has been jettisoned, and the newly acquired Nexbit Robin team has saved the nicest parts of the Robin to build this new Phone.
According to Moss it just made sense. Razer wanted to build a phone intended for gamers first, and a riff on the Robin, which we called "an amazing 1.o device," was the best path forward. So what exactly is an Android phone for gamers?
For starters, it's about the design. At 8mm thick it's a little heftier than the 7.7mm iPhone X or 7.5mm iPhone 8 Plus, and with the all black aluminum body, sharp edges, and big honking logo on the back. Aping the Nextbit Robin design also means there's a big bezel on the top and bottom of the phone with front-firing Dolby Atmos speakers built in. Moss claims Razer wanted to keep the bezels because they make a natural set of grips when playing games in landscape mode. But depending on how you hold phone your thumbs are still likely to cover those lovely speakers.
G/O Media may get a commission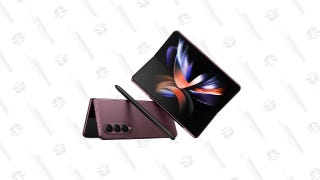 Save Up to $300
Galaxy Z Fold4
Guts-wise the Razer Phone is on par with what you'd expect from a high-end Android device. It has a Qualcomm Snapdragon 835 processor, 8GB of RAM, and a huge 4,000mAh battery that is also one of the first to include Qualcomm's Quick Charge 4+, which could allow it to go from zero to fifty percent battery in fifteen minutes. There are also dual 12-megapixel rear cameras, and, keeping with the annoying fad created by Apple, there's no headphone jack. Just a USB-C port for charging—though Razer also includes a headphone adapter if you really need to be plugged in.
Razer skipped the OLED display, which makes it a neat alternative to anything Samsung is doing. Instead it uses a 5.72-inch 1440p LCD display. Moss said the company went with LCD over OLED because there would have been significant "ghosting" with an OLED display, which means if you played a game of Pac-Man you would have seen a yellow trail linger after the titular character. Why was ghosting a concern? Because this phone has a crazy 120Hz refresh rate and needs to play back games at 120 frames per second. There's no time for a frame to linger longer than it's welcome. Gamers, in particular, covet higher refresh rates (and the accompanying frame rate) because it means they see more of the game and are less likely to miss a key punch or flying laser beam. A 120Hz refresh rate is unheard of in a phone, and Razer seems especially proud of introducing that kind of excess to the mobile phone market.
I only had limited time to play with the device, but I did pop open the frame counter built into Android Nougat 7.1.1 (Oreo is expected on the phone in the Spring of 2018), and hopped into a game of Riptide. The framerate never dropped below 80.
Riptide is one of a number of games that doesn't cap the frame rate at 60fps. Capping the frame rate on a mobile game has been a common practice as most displays are capable of only 30 or 60fps. Razer claims it's working with major game developers to encourage an end to the practice, and at launch, games including Final Fantasy XV, Lineage 2: Revolution, Tekken, and Titanfall: Assault will run at up to 120fps on the Razer Phone.
But if you don't want to eat through that big phone battery by playing games at crazy speeds, Razer has brought over another big feature from PC gaming: Choice. You can throttle the framerate down to a more battery-friendly level if you'd like, and you can even set the framerate per app, simply by going into the new settings Razer has built into Android. So you can do 30 on something like Twitter or Facebook and 120 on Final Fantasy XV.

But as appealing as this phone might seem, there remain a lot of question marks. Like the camera. The one I saw in a hands on had pretty weak controls, and Razer has made next to no investment in camera technology. Can it really compete with the likes of Apple, Google, and Samsung, all of whom have poured countless research hours into building the perfect smartphone camera?
And will people beyond Razer's admittedly hardcore fanbase even be interested in this phone? It will be sold in Microsoft brick-and-mortar stores so there's a chance to woo some of the Microsoft obsessives, but let's be honest, this is a weird time to enter the phone market. Razer told me repeatedly that it was always part of the plan to come out with a phone, even if that means launching a phone into a mature marketplace. Most people already have the phone they want, and I'm curious to see how many will be wooed by nothing more than an (really nice) 120Hz display and the promise of Android gaming.
Particularly as Android gaming has always played second fiddle to iOS! Sure, this could wind up being a great phone for your emulators, or that newly announced Final Fantasy XV mobile edition, but Razer is asking a lot of consumers. We'll know just how important gaming is to phone owners sometime after the Razer Phone starts shipping November 17th. If you're already wooed, you can pre-order the $699 device starting today.
[Razer]