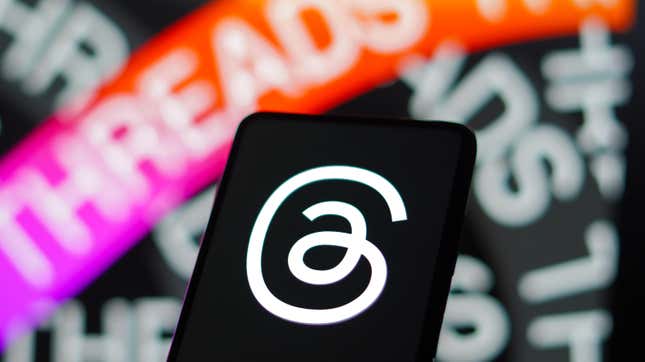 After rumors of an incoming web version of Meta's struggling Twitter-clone Threads, the web app for the social media platform is now live.
Instagram is Testing Adding Songs to Your Profile
Beginning this morning at 9 a.m. Eastern, Threads users will begin to be able to post, view their feed, and interact with Threads all from the comfort of their desktop. The release comes after Meta's Head of Instagram Adam Mosseri previously teased the web app on his own Instagram account last week. At the time, Mosseri called the web app "a little bit buggy," but it would appear that Meta made some quick tweaks to the desktop version of the platform in the last few days. With that, a Meta spokesperson told Gizmodo in an email that the browser app will see increased functionality throughout the next few weeks with Meta CEO Mark Zuckerberg posting that the web app would see a widespread roll out in the coming weeks.
"We're much more focused on the web, on search, which I think can meet a lot of the needs of hashtags," Mosseri said in a now-vanished post on his Instagram according to the Wall Street Journal.
Threads' move to try and dominate the web comes as X reportedly has struggled with mobile downloads after Musk changed the platform's name from Twitter. Tech blogger John Gruber wrote that X has fallen to #51 in the App Store's list of most downloaded free apps while the platform has also fallen to #66 on the Google Play Store.
Threads is not without its own hiccups, however. Meta raced to launch the platform after Musk's X began to experience turbulence with its user base, primarily in the wake of the name change. That rush to launch did not come without issues. Earlier this month, Threads' daily active user base shrank a dramatic 80% from 49 million shortly after its launch in July to 9.6 million at the beginning of this month. Users also spent 50% less time on Threads just two weeks after the platform went live.