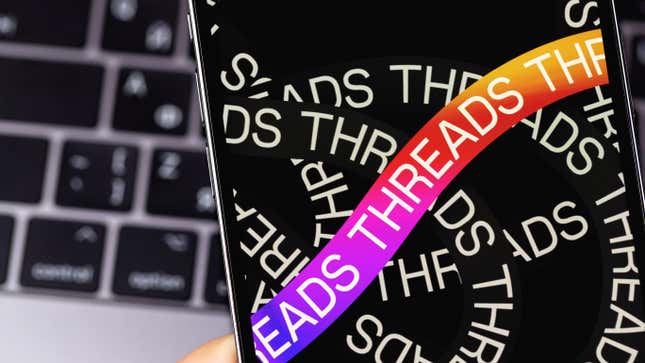 We're only a month out since Meta released its Instagram-tied Twitter-killer app Threads. Since then, the time users spent on the app has tanked. Now, two separate data analysis firms say that the number of users logging in each day on the app has similarly flatlined just a month after its release.
Threads Needs These Five Missing Features to Be a Twitter Killer
Similarweb, a digital intelligence platform, shared its data with Gizmodo showing Threads daily active users hovered around 49 million just two days after launch. By Aug. 1 that number had cratered to just over 9.6 million. Engagement is also way down from early in Thread's lifespan. Similarweb's data shows time spent on the app in all available markets peaked on July 6 at about 14 minutes a day, but that time has been cut to just 2.3 minutes by Aug. 1.
David Carr, a senior insights manager at the analysis company, told us the engagement time based on just U.S. user data was slightly more favorable to Threads, but not by much. The app peaked at 20 minutes but now it's keeping steady at around 3 minutes for U.S. users.
According to the market research firm Sensor Tower, as CNN first reported and later seen by Gizmodo, the daily active user count on Threads is down 82% from when the app launched July 5 to July 31. According to Sensor Tower, the app was leveraging about 44 million DAU at its peak as more folks sought a real Twitter alternative. By the end of the month, it was hovering around 8 million visitors. The company told CNN that DAU is falling at about 1% every day. Sensor Tower data also mentioned that engagement was down to just 2.9 minutes a day compared to 19 minutes earlier in July.
In the company's Q2 earnings call last month, CEO Mark Zuckerberg said the company was "seeing more people coming back daily than I'd expected" to Threads. He added that they were "focused on retention and improving the basics" before they tried to grow the community to scale. Gizmodo reached out to Meta, but the company declined to comment further than Zuckerberg's recent earning's call.
Back during its 15 minutes of fame, Threads was leveraged as the fastest-growing platform in the history of apps, hitting 100 million user signups less than a week after launch. SensorTower's own data shows that it's still one of the top-downloaded apps on both Android and iOS. Meta has been adding much-requested features to Threads, such as a proper chronological Following feed along with post translations. The app is still missing features inherent to the full Twitter experience, such as a search function that can find topics as well as users, trending topics, and direct messages.
Threads were far more successful than Meta seemingly anticipated out of the starting gate, so a sudden, sheer drop in overall users was likely expected. The hard part about so many people diving into an early app that was clearly meant as a starting point is now getting those former users to return once the platform is more feature-rich. Instagram head Adam Mosseri has also mentioned their intent to connect Threads to the decentralized Fediverse, though whether that drives new-found interest in the app is anyone's guess.
It was clear from Thread's launch that users were desperate for a Twitter alternative away from owner Elon Musk's unending march toward making the platform a pay-to-play hellscape. But at the same time, Threads' stated aim was to be Twitter with the rough edges shaved down then covered then over with pool noodles to make sure nobody gets hurt. Mosseri has said Meta has tried to downplay news or potentially sensitive topics in its algorithmic feed. Can a fun-loving alternative counter Twitter's worsening atmosphere? Potentially, but with Bluesky waiting in the wings, having yet to see a wide-scale release, Threads may end up the same as Mastodon as a specialized micro-blogging site. There's nothing necessarily wrong with that, although regular copycat Zuckerberg isn't the type of person who feels safe about coming in second or third place.
Just look back to other app-killers like Google+ that attempted to take down Facebook. Note that Google+ lasted close to eight years before the company pulled the plug, and the site suffered some pretty major data breaches in that time. A big problem with the app was that it simply didn't include features found in its main competitors, and the company spent years playing catch up, but all in vain. If Meta wants Threads to avoid that fate, it should start thinking about what people actually want in a Twitter competitor. Mainly, they just want Twitter again, but without a megalomaniacal boss in charge.