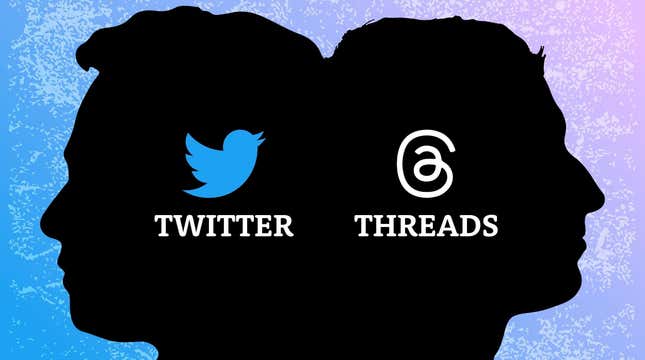 Elon Musk and Mark Zuckerberg traded insults over the weekend as competition between the billionaires heated up majorly in Zuck's favor. On its fifth day of existence, Meta's new Threads app hit over 100 million user signups, becoming one of the fastest growing apps in history. Meanwhile, Twitter's traffic is "tanking," according to Mathew Prince, CEO of network service company Cloudflare, whose data shows that visits to Twitter have been in steady decline since Musk took the reins, a trend that accelerated slightly over the past few weeks. In response, Musk called for a dick-measuring contest.
Is Threads a Threat to Twitter? | Future Tech
Threads, launched as a competitor and direct copy of Musk's troubled company, has surpassed even headline-grabbers like ChatGPT with its growth. It's currently the most downloaded app on both iPhone and Android, according to analytics firm SensorTower.

"100 million people signed up for Threads in five days. I'm not sure I can wrap my mind around that fact," Instagram CEO Adam Mosseri posted on Threads Monday. "It's insane; I can't make sense of it."
Over the last few weeks, Musk's reactions to Threads news ranged from swearing he's not worried about any of it to lambasting Meta's alleged social media monopoly to adolescent name-calling. On Sunday, Musk Tweeted "Zuck is a cuck." (Cuck, the recent insult of choice for conservatives, is short for "cuckold," a word for a man who allows his wife to sleep with other people.) Eight hours later, Musk proposed "a literal dick measuring contest." Meta did not immediately respond to a request for comment. Twitter has an official policy of ignoring media requests, and its press email automatically responds with a poop emoji.
Zuckerberg doesn't seem particularly bothered. He's riding high. After a former Meta engineer posted that the word "Threads" appears to be censored from Twitter's Trending topics, Zuckerberg responded "Concerning," a mocking reference to one of Musk's go-to replies on Twitter.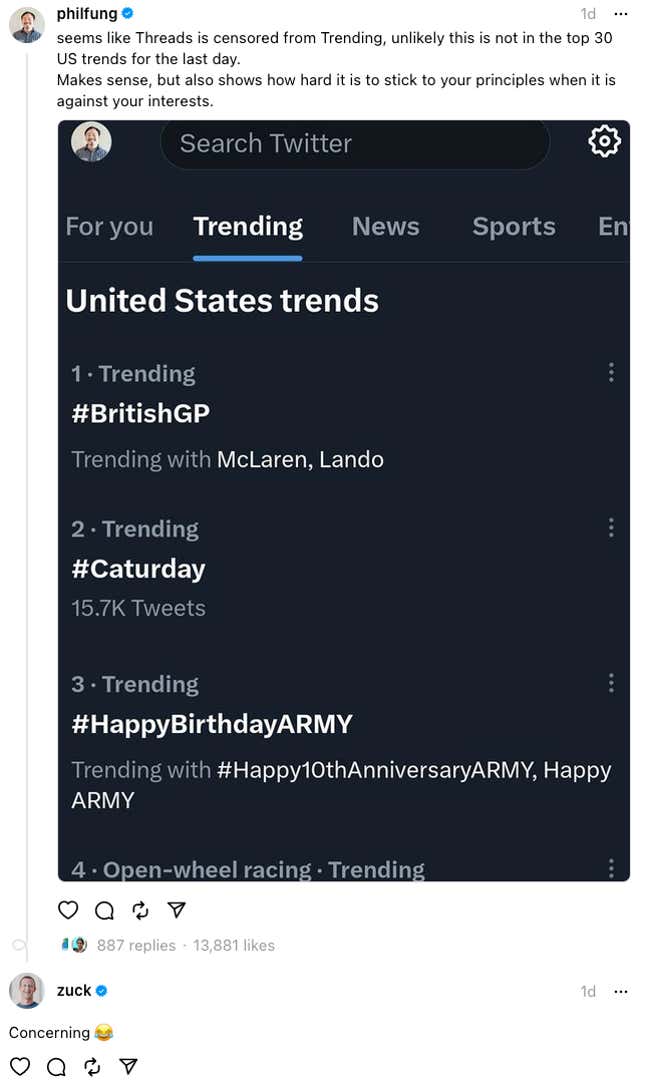 Threads has a cheat code to early success. The app is built on the Instagram network, which means signing up takes seconds. Users automatically build a network as friends and followers from Instagram sign up. That alone isn't enough for long-term sustainability, but it won't take much to destabilize an already-faltering Twitter. In fact, Threads could fail and still be a win for Meta if it kneecaps one of the few major competing social networks.
Immediately after Musk's takeover, Twitter users started a migration to a growing list of competitors. Mastodon, the initial front runner, seemingly lost steam, but another upstart called Bluesky is going strong, and saw record signups after Musk made the temporary but disastrous choice to limit the number of posts users were allowed to see in early July. Bluesky recently surpassed one million signups, a number that seems insignificant compared to Threads until you consider that Bluesky is still invite-only and doesn't have Instagram's two billion users to fall back on.
Five days in, Meta executives are already on their third or fourth victory laps, starting with a self-congratulatory video Instagram CEO Adam Mosseri filmed from his bed. In a series of posts, Mosseri promised to bring a number of basic features to the currently threadbare Threads app, including hashtags, the ability to edit posts, and a page for trending topics. Mosseri also said his team is considering a feature that automatically archives posts after 30 days.
"The team has been busting their ass, but we know this is a race to the starting line," Mosseri said on Threads. "They say 'make it work, make it great, make it grow.' Well, we certainly did things out of order, but I promise we will make this thing great."