Almost exactly three years after Getty Images photojournalist Chris Hondros was killed by a rocket-propelled grenade in Libya in April 2011, there's a new book of his writings and photography. War is horrible.
Warning: Some of these images are graphic.
Spanning more than a decade of work, Testament is a striking book, which documents Hondros' incredible eye for the ways the way conflict affects people. The photos are at times disturbing, showing the sadness and misery of the world's constant warfare. It's hard to look at, but it's the truth—a truth that Hondros gave his life to tell. Here are 10 beautiful images, complete with the original Getty Images captions Hondros filed.
G/O Media may get a commission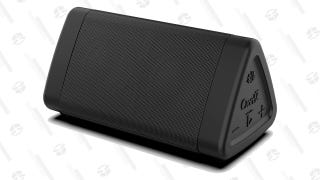 Save 31%
Oontz Angle 3 Portable Bluetooth Speaker
April 16, 2003: A U.S. Marine pulls down a picture of Saddam Hussein at a school April 16, 2003 in Al-Kut, Iraq. A combination team of Marines, Army and Special Forces went to schools and other facilities in Al-Kut looking for weapons caches and unexploded bombs in preparation for removing and neutralizing them. (Photo by Chris Hondros/Getty Images)
---
Samar Hassan screams after her parents were killed by U.S. Soldiers with the 25th Infantry Division in a shooting January 18, 2005 in Tal Afar, Iraq. The troops fired on the Hassan family car when it unwittingly approached them during a dusk patrol in the tense northern Iraqi town. Parents Hussein and Camila Hassan were killed instantly, and a son Racan, 11, was seriously wounded in the abdomen. Racan, who lost the use of his legs, was treated later in the U.S. (Photo by Chris Hondros/Getty Images)
---
US Army soldiers in the 1/501st of the 25th Infantry Division shield their eyes from the powerful rotor wash of a Chinook cargo helicopter as they are picked up from a mission October 15, 2009 in Paktika Province, Afghanistan. (Photo by Chris Hondros/ Getty Images)
---
Army Specialist Allan Beck, injured in a vehicle accident, has his neck stablized in the emergency room at Balad Air Force Theater Hospital (BAFT) March 18, 2006 in Balad, Iraq. (Photo by Chris Hondros/ Getty Images)
---
An American medic in the 82nd Airborne Combat Aviation Brigade gives CPR to a grievously wounded unidentified Afghan National Army soldier (ANA) in a Medivac helicopter November 1, 2009 in Kandahar province, Afghanistan. (Photo by Chris Hondros/ Getty Images)
---
In the orange fog of an Iraqi sandstorm, medic Sgt. Matthew Kunkle (L) and Private Aaron Livas, US troops of the 2nd Battalion, 30th Infantry Regiment of the 10th Mountain Division carry a wounded Iraqi man who started running from their platoon during a routine morning patrol and was shot May 16, 2008 in Baghdad, Iraq. (Photo by Chris Hondros/ Getty Images)
---
A child Liberian militia soldier loyal to the government walks away from firing while another taunts them on July 30, 2003 in Monrovia, Liberia. (Photo by Chris Hondros/ Getty Images)
---
Kurdish boys play with a soccer ball after school at sunset January 10, 2003 in Mardin, Turkey. (Photo by Chris Hondros/ Getty Images)
---
A Marine Arabic translator, of the Force Recon attachment to the 24th Marine Expeditionary Unit, prepares to interrogate an Iraqi prisoner April 12, 2003 in central Iraq, north of Nasiriyah. The prisoner and two others were picked up fleeing from the Marines and trying to discard military uniforms and IDs. Force Recon is the Marines equivalent of Special Forces, Marines tasked with recon and other sensitive missions in small groups. (Photo by Chris Hondros/Getty Images)
---
An anti-Taliban commander looks over the area where Al Qaeda fighters are hiding and engaging his troops December 10, 2001 in the Tora Bora area of Afghanistan. Anti-Taliban soldiers bombed and fought al Qaeda fighters in an attempt to oust the estimated 2,000 soldiers loyal to Osama bin Laden that are holed up in caves in the rugged countryside. (Photo by Chris Hondros/Getty Images)
---
Top image: Getty Images photographer Chris Hondros walks through the streets on August 3, 2003, in Monrovia, Liberia. (Getty Images)