Light a firecracker, listen to Steve Jobs' Mercedes peeling out, grow a mustache, make a disguised-voice phone call with your various illegal demands. All in a week's work in the App Store. Let's have a look at the fruits of the last seven days.
Sonic Vox: Just in time for Halloween (or your upcoming anonymous ransom note telephone call), Sonic Vox is a real-time voice shifter that can add echo and changes in pitch. Hook your iPhone to line-out for Deepthroat Skype calls.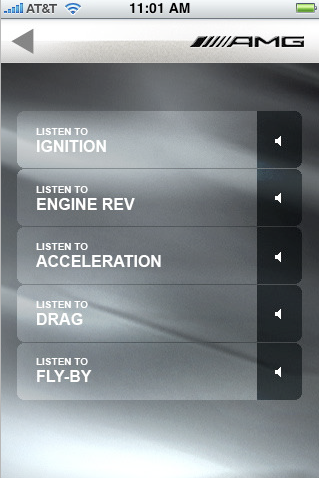 Mercedes-Benz C63 AMG App: Surely fast-tracked by AMG fan Steve Jobs (head of the queue!), for the rest of us, this is a reminder of what we will not soon experience first-hand-photos and videos of a sleek, six-figure Benz, and sound clips of it peeling out.
Sonic Boom: Those folks behind the Sonic Lighter (and the voice-shifter above also, coincidentally) just can't stop innovating-Sonic Boom gives you a virtual firecracker onto which you can map a photo, adjust the size of the charge and length of fuse and spin around before making it go boom in a different-every-time explosion. $1.
Mustache: I haven't shaved in days, but what's on my upper lip is barely perceptible as anything beyond 7th-grade fuzz. As the developer of Mustache states: Mustaches are a symbol of power and virility, who wouldn't want to grow one! Sadly, not everyone one can. Hand over a buck, hold a picture of a mustache in front of your face. If you're not bold enough for this tattoo. This week's app coverage on Giz: •Our Android App Liveblog is going strong-expect weekly updates to commence once the store opens to developers, which is happening Monday. •The NDA keeping developers from discussing the ins and outs of their apps is dead. •Free landscape-mode emailing via Firemail •Brightkite, a location-based social network, seems perfect for stalkers. •A legal imbroglio over those silly beer apps like iBeer escalates. Yeah. •A stylophone app is coming, bringing Kraftwerkian joy.
This list is in no way definitive. If you've spotted a great app that hit the store this week, give us a heads up or, better yet, your firsthand impressions in the comments. And for even more apps: see our previous weekly roundups here, and check out our original iPhone App Review Marathon. Have a good weekend everybody.