Right, so bear with me here: this week our apps are all about learning new things, understanding the world around you, meeting new people, playing extremely silly games in large groups. Sort of like being a kid again! No? Ok.

Pocket Universe: It's a pinchy, zoomy, 3D star map for the iPhone and iPod Touch. For the iPhone 3GS, for which the new Pocket Universe is designed, you get full-on astronomical augmented reality. Using location services, accelerometer data and the 3GS's compass, Pocket Universe pseudo-overlays information about your stars, planets, constellations and general space things according to whatever you're pointing at. Three dollars.

Loopt for iPod Touch: The Loopt iPhone app has been around as long as, well, iPhone apps. Since 2008, it's earned its keep as one of the only useful friend-locating apps. Just about every mobile platform has a client, with one notable exception: the iPod Touch. That, along with Of course, Loopt isn't quite the same without GPS, but Wi-Fi location will get you by in a bind. Still waiting for a proper 3.0 version though. Free.

G/O Media may get a commission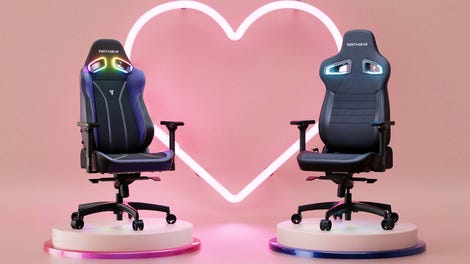 Up to $150 off
Vertagear Gaming Chairs
Seek 'n Spell: iPhone games tend to be a lot like games for any other portable device, and rarely leverage some of the traditionally non-gaming capabilities of the handset. Part of this is because, until recently, the developer SDK was sort of limited. Most of it, I think, is because developers just haven't been thinking hard enough.
Take this clever, if obvious, idea for a game: A map of wherever you are is overlaid with letters, which you and you teammates can collect by physically running to their icons. Your goal is to come up with words for points, Scrabble-style. It's a very, very cool idea, and decidedly sweatier than your typical iPhone game. A buck.

MSNBC: Hey, look, another news organization has a content app! Let's talk about it! This one's less about news than about catering to fans of the network, with an emphasis on video content as well as Twitter feeds from MSNBC personalities. It's a bit hard on the eyes, and occasionally goes stuttery on you, but it works fine. Fun fact: according to the iTunes description, this iPhone app, being an MSNBC product, uses "Microsoft's Advanced Technologies." What this means, I have no idea. Free.

Fluent News: If you could sense a lack of excitement about that MSNBC app, that was because of apps like Fluent. It's far from the first multi-source news aggregator, but it's one of the better ones. It behave like Google News, more or less, collecting important news from lots of sources and grouping it in a sensible way Why not just use Google News then, you might rudely interject? Well, for one, Fluent can cache news for offline reading, for plans, subways, caves, or wherever. It also prefetches longer articles, though I couldn't really tell in my brief testing. Anyway, it's free, so why not?

Skype: Another incremental update to another extremely popular app. This one gets an interface lift, but most importantly, two useful features for people who use Skype's pay services: text messaging with SkypeOut credit (good for cheap international texts; bad for having no reply function), and Skype Voicemail support. Voicemail support is a bigger deal than it sounds: since receiving calls when you're out is still pretty much out of the question, the voicemail access makes being out of touch a little less irritating. Still free.

Air Sharing Pro: We've always been impressed with Air Sharing—it's a solid file storage/viewing solution in its basic form. The Pro version, though, is a different animal entirely. First of all, it's expensive: $10, to be exact. It's also got expanded support for file storage services like, MobileMe, MyDisk, and Drop.io.
The main draw is that there are tons of new file functions: emailing, which is a huge help; direct printing, via OS X printer sharing; archiving abilities, including viewing archive contents without extracting. It's a bit like a walled-in version of Finder, and the closest to a proper file browser you're going to get on a non-jailbroken iPhone.

This Week's App News on Giz:
• Facebook 3.0 for iPhone Adds Events and Photo Albums, But No Push (Yet)
• Apple's Nudie App Headaches Now Involve Underage Girls
• iPhone OS 3.1 Features: Better Video Editing, Voice Control Over Bluetooth, And More
• Remarkable Speech-to-Speech Voice Translator Coming to iPhone and Blackberry
• Birdfeed Twitter App Review: Lean, Fast and Pretty
• Doom Resurrection for iPhone Hits the App Store, Costs $10
• A Whole Lotta Quake Will Be Blowing Up Your iPhone
This list is in no way definitive. If you've spotted a great app that hit the store this week, give us a heads up or, better yet, your firsthand impressions in the comments. And for even more apps: see our previous weekly roundups here, and check out our Favorite iPhone Apps Directory and our original iPhone App Review Marathon. Have a good weekend everybody.