Finding restaurants, learning recipes, hunting down local food, eating with a conscience, feigning culinary expertise, and everything else food: Welcome to this week's Friday iPhone apptacular, Taste Test edition.
Deadly Mississippi Tornado Kills More Than 2 Dozen | Extreme Earth
People who don't really care about The Victuals, what's wrong with you? don't worry!: I've still trawled the App Store for non-food downloads this week, and there are plenty—just scroll waaay down. Everyone else? Commence feast...NOW.
Eating Out
G/O Media may get a commission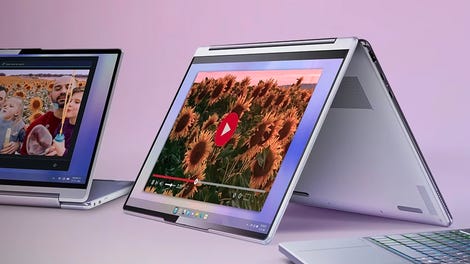 up to 70% off
Lenovo Spring Clearance
Yelp: If by some bizarre circumstance or mental tic you can't download more than one restaurant finder/review app, you should probably make it Yelp. User reviews are plentiful and generally helpful, the database is huge, and its new augmented reality tricks are pure bliss. Free.

OpenTable: OpenTable does the review thing pretty well too, but this app is less about finding restaurants than it is finding a table at said restaurants. Granted, it can feel silly making an online reservation on a telephone, but there's a certain antisocial appeal in replacing a maître d' with a piece of software. Free.

UrbanSpoon: This one tries to do everything: It's city-specific, and it'll feed you reviews, menu and location info for all kinds of restaurants, and in some cases let you make a reservation. It's free too, and the food-finding tools (shake the app for a surprise, within your parameters) are kinda fun, I guess.

VegOut: It's hard to be a vegetarian (I hear), not just in terms of diet, but socially. Where do you go with friends? Where do you tale a date? VegOut spits out a list of nearby meat-free establishments, with reviews and contact information for each one. By its nature it's not going to be much help outside of a big city, but in a metropolis? Priceless. Well, ok, three dollars.

Michelin Guides: Available by region, these are premium restaurant guides, thank you very much. I'm a fan of crowd-sourced reviews, but Michelin reviews are historically reliable, and if you really need to find a three-starred meal to blow your month's pay on, now, this is your best bet.

Global Eater Food Dictionary: When you're eating above your weight, figuratively speaking, you'll run into some terms you've never seen before. Global Eater Food Dictionary will tell you exactly what kind of cow glands those sweetbreads are before you order them, and it's faster than Google, which'll minimize your chances of being outed as a food moron. The price of your snob cred: a buck.

Wine Enthusiasts Guide: Same as above, for the inscrutable world of wine. Five dollars, but that comes with the territory.

Eating In
Epicurious: A beautiful, wonderfully curated recipe and shopping list app that's been perfected with time. It will make you a better cook, period. Free.

BigOven: Another take on the recipe app, this time with more of an emphasis on personal recipes and crowd-sourced ideas. Backed by a fairly huge recipe database. Free.

Allrecipes: Another recipe app, closer to BigOven than Epicurious in concept. It's a bit better at spontaneous recipe ideas, with a slick dish discovery interface. Free.

Locavore: For more discerning and/or conscientious and/or guilty shoppers, Locavore figures out where you live, and spits out a list of local foods that are in season, as well as guides as to where to get them. It's tied to Epicurious for recipes, which is brilliant. Four dollars.

Non-Food
Because some other stuff happened this week, too:
TextExpander: A massive timesaver on Mac OS X, TextExpander gives you immediate shortcuts to your commonly-typed phrases, which is great if you write with a lot of complex jargon, code or HTML tags (hey, bloggers!). Since the kind of deep integration it'd need to behave like its desktop counterpart is impossible on the iPhone, it's more of a glorified clipboard in this incarnation. It does let you pull your shortcuts from your Mac, though, which is pretty helpful. 2bux.

US Open App: Hey, tennis nerds: Live streaming US Open radio coverage is pretty great on its own, while a predictable-but-useful set of news and photo tools will keep you as attuned to the goings-on New York as you could ever want to be. Free.

Girlfriend Keeper: Want to make sure you don't lose your significant other because an anniversary slipped your mind, or because you don't text them enough? Would you like to manage these issuew while simultaneously condescending to them with automated text messages and email? You can do that now, thanks to technology!. As far as joke apps go, you've got to give these guys credit for following through. A dollar. [via TheFrisky]

TUAW: Single-source news apps are by nature kind of dumb, but TUAW's new app deserves a special mention because a) their news is obsessively relevant to iPhone users and b) because it's a surprisingly polished app. Free.

Madden NFL 10: This one isn't technically out yet—it's due in a month or so—but we thought we'd give you a peek. There are other football games around, but this is a real Madden title, meaning it'll have team and player names licensed, and an outsize budget, which looks like it's manifested itself in some pretty amazing graphics. The control scheme is the obvious wildcard here, so we'll let you know how it works once we've had some hands-on time.

This Week's App News on Giz:
• Nobody Wants to Be Judged Based on the Apps on Their Phone
• Augmented Reality Yelp Will Murder All Other iPhone Restaurant Apps, My Health
• Apple Actually Approves Awesome Streaming Service Spotify's iPhone App
• Panelfly iPhone Comicbook Reader Is Crying for the Apple Tablet
Your Childhood PC, Perfectly Simulated on the iPhone
• Sirius XM SkyDock Not-So-Magically Converts Your iPhone Into a Satellite Radio
• iHungry?
• How Your Favorite iPhone App Was Designed
• Chipotle iPhone App's Super Convenient Burritos Are Going to Make Us So, So Fat
• Being a Creepy Stalker? There's an App For That
• The Most Racist App Apple's Approved
• The Best iPhone Navigation App: TeleNav vs. Navigon vs. TomTom
• Qik iPhone Video Sharing App Now Allows For Video Uploads Over 3G on iPhone
This list is in no way definitive. If you've spotted a great app that hit the store this week, give us a heads up or, better yet, your firsthand impressions in the comments. And for even more apps: see our previous weekly roundups here, and check out our Favorite iPhone Apps Directory and our original iPhone App Review Marathon. Have a swell weekend everybody.