Sid Meiers does a thing; Duke Nukem makes an appearance, exactly as you remember him; social conspiracies are aired; eBay!; and a thing called "e-mail." All this and more in your unusually 90s-centric weekly app dump, after the jump.
Civilization Revolution: Real-time strategy doesn't really suit the iPhone—it can be a little frantic, and controls aren't perfect. So how about an iPhone adaptation of one of the greatest turn-based strategy games of all time? $10 is right at the acceptable ceiling for non-professional iPhone apps, but this is real, true-to-form Sid Meier stuff, right here.

G/O Media may get a commission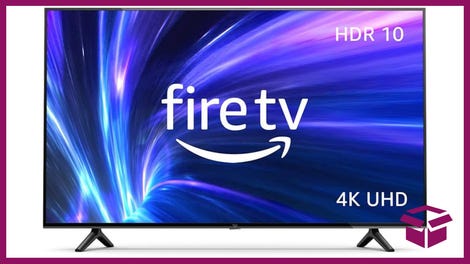 42% Off
Amazon Fire TV 50" 4K Smart TV
Duke Nukem 3D: Oh, by the way, everyone who likes strategy games is a nerd, right guys? Because real men play DUKE NUKEM', with the boobs, and the cursing! This is a fairly direct port of the classic game, but with crappier—though not terrible, for the iPhone—controls, and sadly, no iPod Touch 1G compatibility. Three dollars for a reasonably long, surprisingly playable game.

eBay: eBay has updated their app to support two pretty awesome things: Push notifications, to tell you when you've been bidsniped, because that's pretty much all that shopping on eBay is about nowadays, and PayPal payment support, so you don't have to log onto a PC every time you want to seal a deal. Still free, OBO. (via)

reMail 2: iPhone mail search is fine. reMail iPhone mail search is actually good, if it works for you. Two things: there's no Exchange support (sorry suits!), and there's only support for one account at a time. But within that one IMAP or POP account, reMail archives all your message text as far back as you want, letting you search full text—not just subjects—without a network connection. The five dollar price is a little shameful, though.

Pastie: Lets you make a list of preset text snippets that you can quickly send as emails or texts, rather than having to type out a unique message. It's a timesaver if you're the kind of person who responds to everything instantly and succinctly, or if you just like having a large clipboard on your phone, but beware: it doesn't work on iPod Touches, at all. (via)

My Gay Agenda: Are you gay? Do you have a well-formed sense of irony? Would you like to spend three dollars to make everyone is totally aware of these two facts? Great! Though in all seriousness, this faux-pernicious calendar/to-do list is pretty funny, and a portion of the proceeds go to charity.

This Week's App News on Giz:
• Qik Video Sharing Application Now Available for iPhone 3GS
• iPhone App Developer Uses Fake Tablet Video to Promote their Crappy Game
• The 10 Most Expensive iPhone Apps
• Apple's Phil Schiller Continues Quelling Faithful's App Store Unrest With Polite Letters
• Sex Offender Locator Back in the App Store For Some Reason
• CourseSmart Dumps 7,000+ Textbooks Into the iPhone App Store
This list is in no way definitive. If you've spotted a great app that hit the store this week, give us a heads up or, better yet, your firsthand impressions in the comments. And for even more apps: see our previous weekly roundups here, and check out our Favorite iPhone Apps Directory and our original iPhone App Review Marathon. Have a swell weekend everybody.