The world's carbon emissions were flat for three years, leaving many scientists to speculate about if we'd hit a turning point in our fight with climate change.

But on Monday, two new studies threw cold water on the possibility. The findings show the globe's carbon emissions rose 2 percent in 2017, hitting a new record high. Oh well, it was a good run for those three years.

There are a number of issues at play in the rise, most notably China's surge in fossil fuel use. But it's hardly the only culprit.
There's also two bits of notable hopeful news tucked in the studies: Some countries are getting their act together, and coal use may be declining . They're small silver linings, but in a world where hope frequently feels like it's flickering out, they're worth exploring. Let's take a look at four graphs from the studies that tell the story of the world's carbon dioxide.
Global Carbon Emissions Are Rising
G/O Media may get a commission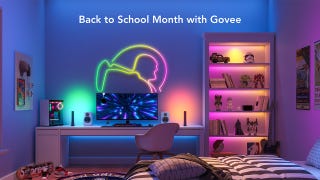 Back to School
Back to School Month with Govee Sale
Let's get this out of the way. The world's carbon emissions took a turn for the worse in 2017.
The U.S. and European Union saw modest decreases in carbon emissions, but they were offset by upticks elsewhere, particularly in China where emissions increased 3.5 percent due to rising fossil fuel use. Natural gas in particular is projected to have increased 12 percent, showing that perhaps it's not the bridge fuel to a low-carbon economy some make it out to be.
China wasn't the sole source for the global increase in carbon emissions. India—the world's other rapidly developing economy—also saw an uptick as did the rest of the world. In other words, every country has work to do when it comes to cutting emissions.
The U.S. Has the Most Carbon-Intensive Lifestyle
While U.S. emissions have dropped for three years running, it's hardly a climate do-gooder. Of all the countries and regions analyzed in the two studies, the U.S. has the most carbon-heavy population, and no other countries are even close.

Carbon emissions per capita in the U.S. were more than double its nearest competitor, China, in 2016. Speaking of, 2016 marks the second year that China has topped the European Union in per-capita emissions. That speaks to China's increasingly Western lifestyle as much as it does its rising emissions.
Coal Continues to Decline
On the down side, oil, gas and cement—all major sources of carbon dioxide emissions—rose in 2016. But let's look on the bright side: Coal use declined for the third year in a row.
Coal is still far and away the largest source of carbon emissions. But that's exactly why its decline is important. Equally notable: The decline is happening in the U.S. and China, underscoring that it's not just one country driving the drop. Both countries have also been installing renewables at record rates (though that clearly hasn't been enough to offset the growth of emissions in China).
The Economy Continues to Split From Carbon Emissions
The big news of the past three years has been the flatlining of carbon emissions even as the world's economy continued to grow. This year is definitely a different story with emissions growing again, but the gulf between emissions and economic growth remains a wide one.
Even more notable is that 22 countries saw carbon pollution decline significantly while economic growth continued. Those countries—which includes major economies like the U.S., the United Kingdon, and France—represent 20 percent of the world's emissions according to the new studies.
In some cases, the decline is due to both rising natural gas and renewables use such as the U.S. In others, hydropower and renewables have been the big driver (Sweden and Ireland for example).
There's no denying economic growth has been the underlying driver of carbon pollution, and by extension climate change. And despite the decline in emissions in some quarters, fossil fuels are still a key to economic growth.

But climate change is a zero sum game. At the current rate, the world has about a decade until it has burned enough fossil fuels to make reaching the ambitious goal to limit the temperature rise to 1.5 degree Celsius impossible (and let's be honest, we need a wholesale course correction now, a pivot which is unlikely to happen).

Beyond that, we have a few decades before we blow past the 2°C goal outlined in the Paris Agreement. As international negotiators meet in Bonn this week to talk how to meet that goal, these new findings are a reminder of the daunting task ahead as well as lessons for how to start righting the ship.