When the WWE announced that it was creating its own digital network—and possibly charting a course for the future of television in the process—it was rightly received here and elsewhere as a Big Deal. But what didn't receive quite as much fanfare was Vince McMahon's secret weapon: A second screen experience that's both beloved and highly evolved.
Here's what we know about the WWE Network: It's for superfans. Or rather, it represents an insane value to people who consider themselves anything above a casual wrasslin fan. Remember, for just 10 bucks a month, you get access to 12 pay per views that normally cost around $55 a pop. For the right person, it's an outright steal. But outside of that fan base, it's a tough sell.
Here's what we don't know about the WWE Network: If there are enough of those people (a million, by WWE's own estimates) to make it sustainable. But today, we get our best hint yet that there are at least that many diehards ready to open up their homes to an endless stream of suplexes.
The WWE app, a second-screen experience that gives viewers access to bonus content, social feeds, notifications, and more, has officially been downloaded 10 million times. That's 10 million fans passionate enough to want an app that gives them the kind of immersive experience that would seem, frankly, a little unhinged to a casual fan. If just one out of 10 of those 10 million clicks "subscribe," the WWE Network is a hit.
G/O Media may get a commission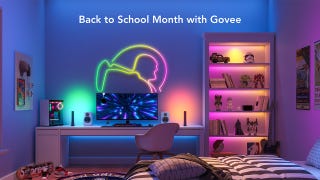 Back to School
Back to School Month with Govee Sale
I spoke with WWE EVP of Digital Media, Perkins Miller, about his company's vision for the WWE Network second screen experience. The short version? It's basically what you see now, applied to the 1,000-plus hours of content that will be available digitally. But the "majority of shows" will have a second-screen experience built in, which should be enough to entice people who are already engaged with RAW to take that extra step.
And while in a larger context 10 million isn't a huge number of downloads—BBM messenger apps for iOS and Android hit that number within one day—it doesn't need to be, as long as the people doing the downloading are the types of fans who also, say, pay for Summer Slam. Surprise! They are. Last year's Slammy Awards, notes Perkins, saw a million people engage with their WWE app.
In fact, the WWE app should end up being such an effective Trojan Horse that the network's bigger concern may end up being how to support that kind of load. With high-profile disasters like SimCity's launch in the rearview, it's hard not to be skeptical about the network's ability to handle that kind of volume of high definition screens. Perkins says not to worry:
We are in the big event business, as you know... This is why we went to MLB. They do the NCAA Final Four, opening day for baseball. They've got the ability to manage at scale... We've ensured our testing protocols from a load basis are at very, very high volumes. We've been pretty rigorous. The world isn't a perfect place, but we've done the best job that we can.
Though it's true that MLB has experience streaming at a large scale, anyone who's tried to stream the Final Four or a late-season, high-profile ballgame knows that it's far from flawless.
Still, it's a good problem to have. And WWE has some time to sort any hiccups; while it'll eventually feature a full slate of original programming, it's launching with three shows—WrestleMania Rewind, COUNTD0WN, and NXT—and has until April to prepare itself for the inevitable onslaught that WrestleMania 30 will bring.
In the meantime, it must be comforting to know that when you're preaching to the converted, you've got 10 million converts in your back pocket, ready and waiting for their own personal streaming Mecca to go live.