Over the weekend, I flew to LA to attend the wedding of my mother's cousin, a beautiful ceremony, right on the ocean, at a hotel in Santa Monica called Shutters. Vows were exchanged and champagne flowed and as soon as we were seated inside for dinner, I was hit with a world of ridiculous.
Figuring I would be dancing and at a private event, I brought with me only my iPhone and a lipstick—both of which fit conveniently in the hidden pockets of my dress. No wallet. No keys. No problem, right? Wrong.
I was seated at a table with several of my cousins, all of whom are college-age or almost, of which I am the eldest. When one of the servers came over to ask to see the IDs of those of us who were drinking, I froze. I didn't have mine. I explained to her than I'm 23 and that I didn't bring my wallet or ID with me because this is a private family wedding and why would I need to? She wasn't having it. I mentally shuffled through my iPhone's contents, trying to think of something—anything—that would validate my legal age. Then I remembered: I'd taken a picture of my passport a few weeks earlier and emailed it in, along with a whole lot of paperwork, when I first was hired here at Gawker.
The server went to get her manager (and confiscated the glass of champagne I'd been sipping when this whole mess began), because she wasn't so sure about this "digital image" and wanted to run it by her higher-up. When the manager arrived at the table, I was all ready, with the image glowing blue on my iPhone screen. Of course this would work; it was good enough for my employment, why wouldn't it be proof enough for the hotel to let me drink?
G/O Media may get a commission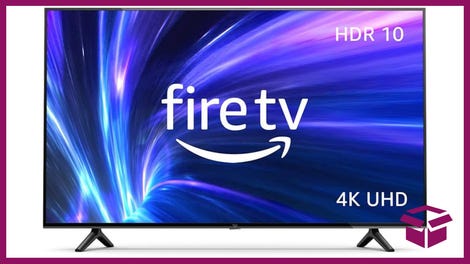 42% Off
Amazon Fire TV 50" 4K Smart TV
But it wasn't. Or at least, the manager wasn't sure it would be sufficient proof and radioed in hotel security.
Pause for a minute: I'm 23. I've been legally drinking for over 2 years now. This is my cousin's wedding. A private affair.
This is exactly what I told the security staff when he arrived, whispering into his cuff like I was about to be caught in the middle of some sort of prohibition-era booze bust. Flanked by the server on one side and the manager on the other, I held my iPhone up to the security guy. "There, see? I'm 23. It says so right here, on my government-issued passport. This picture is clear as day."
Natch, this wasn't good enough for him. I needed to have physical proof of identification; a digital image would not suffice. And it didn't even matter that my mother, father, and several cousins all corroborated my age. He wanted a paper document. (Airports will accept a boarding pass PDF pulled up on your smartphone—which: terrorism—and still, this?)
Here's the kicker: when I asked the security guy what he was so scared of happening, why he would not allow a 23-year-old to drink some champagne at a private wedding, who he was nervous might bust him on this dereliction of duty he said, "Have you ever heard of Yelp?" (Obvi, yes.) "Well, they have secret shoppers."
As if a Yelp-affiliated secret shopper would ever be sent to a private wedding to tattle on the bar staff at a swank seaside hotel. (That's right, Shutters, I'm talking to you.)