Around the world, there are buildings that are decorated and built almost entirely with human bones. They form eerily symmetrical patterns, and turn death into an architectural flourish. These are some of the most remarkable.
The Eggenburg Charnel in Eggenburg, Austria, with the remains of 5,800 people. It was constructed in the early 14th century.
(via Atlas Obscura, Karl Schönswetter and Willard)
The Capela dos Ossos (The Chapel of Bones) in Évora, Portugal, a 16th century chapel built by a Franciscan monk.
The small chapel (it's only 61.3 ft long and 36 ft wide) contains skulls and bones of about 5000 monks. There are two desiccated corpses, one of which is a child, dangle from an iron chain.
G/O Media may get a commission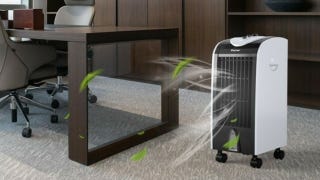 Save $10
Evaporative Portable Air Conditioner Cooler with Filter Knob
(via Ken & Nyetta, Ivo Anastácio, Ole Christian Rousing, Feliciano Guimaraes and Wikimedia Commons)
Our Lady of the Conception of the Capuchins (Santa Maria della Concezione dei Cappuccini), Rome, Italy, designed by Antonio Casoni, built between 1626 and 1631, commissioned by Pope Urban VIII.
The Capuchin Crypt contains the remains of 3,700 friars buried between 1528 and 1870. The bodies spent 30 years decomposing in the soil before being exhumed.
(via Andrei Zmievski, Sam, Thomas van Ardenne and Johnny Söderberg)
The ossuary under St. Jacob's Square (Jakubske namesti) and partially the Church of St. James in Brno, Czech Republic with more than 50,000 skeletons from the 17th and 18th centuries, rediscovered in 2001. It's been opened to public since June 2012.
(via Wikimedia Commons and TIC Brno)
The ossuary under the Monastery of San Francisco in Lima, Peru. The church and monastery were consecrated in 1673, and the catacombs were used until 1808.
There are femur bones and skulls of more than 70,000 people.
(via Wikimedia Commons and Mike Bash)
The ossuary of San Bernardino alle Ossa, a 13th century church in Milan, Italy.
On the site of the church there was a cemetery between 1145 and 1210, when a chamber was built to house all the bones. A chruch was attached in 1269, restorated in 1679 by Giovanni Andrea Biffi, who decorated the walls of the ossuary with bones and skulls.
(via Wikimedia Commons)
The Capela de Ossos, a small chapel built out of bones. And there is a complete skeleton covered in gold, too! It was built in 1719, and stands in Faro, Portugal.
(via Gustavo Marin and G_Morales)
The Hallstatt Beinhaus with more than 1200 skulls in Hallstatt, Austria.
The new skulls are painted since the 1720s, and 610 of them has decorations.
(via Thomas Grill, Roy Mesler, Laura K. Gibb and Alfred Diem)
The Skull Chapel, a mass grave of people who died during the Thirty Years' War (1618-1648), three Silesian Wars (1740-1763) and some others who died because of hunger, cholera or other deadly infections in Czermna, Poland, built in 1776.
(via Ministry of Foreign Affairs of the Republic of Poland)
The Catacombs of Paris, France, opened in the late 18th century.
There are more than 200 miles (320 km) of labyrinthine tunnels under Paris, and a small part of that (1.1 mi or 1.7 km) is an underground ossuary which holds the remains of six to seven million people.
(via Tridekker, switchhook and Andy Delcambre)
The Skull Tower (Ćele-kula), a tower of human skulls in Niš, Serbia, built in 1809 by a Turkish general named Hurshi Pasha out of skulls of 952 Serb rebels.
A German illustration of the tower from 1868.
The original tower was 15 ft (4.6 m) high and 13 ft (4 m) wide. In the next years the families of some dead rebels cut away some of the skulls and now only 58 skulls remain in the tower.
(via Wikimedia Commons and Magalie L'Abbé)
The Sedlec Ossuary, a small Roman Catholic chapel beneath the Cemetery Church of All Saints with the bones of between 40,000 and 70,000 people in Sedlec, Czech Republic.
The place was redesigned by a local woodcarver named František Rint in 1870 and now it has bone chandeliers, arches, pyramids and other artistic forms.
(via fdecomite, Mary Crandall, Milan Boers, gravm, Sangre el hombro de Palas and Geson Rathnaw)
An ossuary under the Church of the Blessed Virgin Mary in Křtiny, Czech Republic.
The place is famous for its twelve decorated skulls.
(via Empire de la Mort)
Bonus: The Goldbar in New York City with golden skull decorations
(via Morbid Anatomy and Yelp)