Photojournalism has come a long way in the last 65 years. Back in the first half of the 20th century, photographers looking to capture the fast action of car races and baseball games were forced to shoot with enormous camera contraptions like this Graflex "Big Bertha" large format press camera. But the pictures it captured were spectacular.
Graflex produced a series of cameras in a number of styles and film sizes—from 35mm to 5 x 7 large format. Between 1912 and 1973, the company made a name for itself with its line of Speed Graphic folding cameras (shown below). These cameras featured a between-the-lens shutter mounted to the lensboard that offered shorter focal length lenses and a wider field of view. This made them especially popular with news photographers, since it allowed them to capture more of a scene at a time.
The Speed Graphic's focal plane shutter also enabled these cameras to capture the fast moving action that sports photography demands in a way that no other camera at the time was able to deliver. These cameras employed a thin slit (manually determined by the user) to expose different parts of the film at different times, its shutter speed dictated by a key-wound, mechanical tension spring. The slit width and shutter speed were correlated using a handy table included on the side of the camera case.
One unintended side effect of this slit scan method, however, was that rapidly rotating objects like racecar wheels appeared as forward-leaning ovals, which is what inspired cartoonists of the time to do the same.
G/O Media may get a commission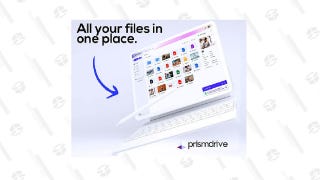 Save 97%
Prism Drive Secure Cloud Storage: Lifetime Subscription
But to make a Speed Graphic into a Big Bertha, photographers would permanently affix a 20- to 60-inch long telephoto lens weighing as much as 120 pounds to the end of Single Lens Reflex (SLR) cameras (essentially nailing everything to a long wooden plank). Since a gigantic telephoto lens like this would require an equally massive (and incredibly slow) shutter, the Speed Graphic's onboard focal plane shutter made it the ideal partner device.
William Kuenzel of the Detroit News, a pioneer of American sports photography, is credited with first devising the idea. The longest lensed versions would often require two people to operate, and were primarily used for shooting close-up football action from the upper reaches of the stadium. While his construct employed the early manual slit and speed setting, by 1937 these cameras had evolved a sort of "gear shift" for the focusing lever on the side of the lens. And by 1952, these cameras had again improved to include electric drives and shutters, allowing photographers to capture up to three images per second.
Though the Graflex Speed Graphic has since been overtaken by modern digital SLRs, the need for humorously oversized telephoto lenses remains—with companies like Sigma stepping up to deliver gigantor 200-500 mm rigs. [Kodakery - Wiki]