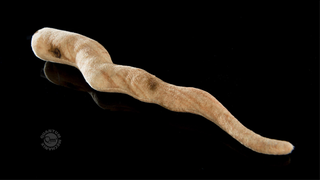 A stake has one job to do: Stab your errant blood-sucker right through the heart. So while it might look the part, this plush Mr. Pointy from Buffy The Vampire Slayer might not be the most useful thing to have on hand if you find yourself Van-Helsing-ing it up this Halloween.
Qmx's bid to plushify every license it gets its hands on continues with this 12" 'replica' of Mr. Pointy - the lucky stake Kendra gives to Buffy in the show's second season.
Made with a 'realistic woodgrain fabric', there's not much really that you can say other than 'Huh?'. I guess in a pinch it could also double up as a plush Harry Potter wand, but for now let's just appreciate the absurdity of the world we live in, where plush Vampire Stakes are things you can buy.
If you want a plush Mr. Pointy of your own, it'll set you back $9.95 when it's released later this year.
[QMX]
---
You're reading Toybox, io9's new blog for all things pop culture. From merchandise to awesome fan creations, TV recaps and critical commentary on the hot topics of the day, you can find it all here!