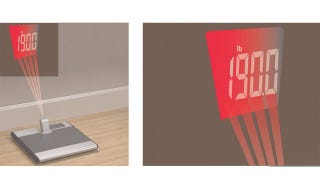 Here's a new weight loss tool that uses public humiliation to force you to lose weight. Available from Hammacher Schlemmer, the projection scale will display your current weight on the wall ... where everyone can see it.
You can adjust the projection from 2 to 6-inches high if you want to conceal your weight, but those bright red numbers are hard to miss.
You can hide your weight by using the LCD display on the scale itself, but you have to be trim enough to see past your belly. Nothing like adding insult to injury. [Hammacher Schlemmer via Coolest Gadgets]
---
You can keep up with Kelly Hodgkins, the author of this post, on Twitter, Google + or Facebook.