If you happen to see a robot on the side of the road this summer, don't be afraid to pick him up. That's just hitchBOT, a friendly hitch-hiking robot trying to make his (her? its?) way from Boston to San Francisco.
Designed by Canadian researchers, hitchBOT is part art project, part social experiment. Can robots trust humans? Or, perhaps more importantly, can drivers trust hitchBOT?
If you see hitchBOT along the side of the road or outside a coffee shop, you're free to take him with you. He just wants to see the country — from Times Square to the Grand Canyon, and everywhere in between. HitchBOT can't move on his own, so once you get tired of dragging him around, feel free to pass him off to a friend or stranger. Or just leave him out in a public place.
"Please pick me up and put me in your vehicle," hitchBOT explains when he's sitting on the side of the road. "Now I want to experience the American dream. Along with my newly shined wellies, I will be bringing a bucket list I made along with the help of my family."
I'm not sure hitchBOT understands that the American Dream typically has social and economic connotations beyond merely going on a road trip, but we can forgive him this time. He's Canadian. And I'm sure that even though he's just a robot, like all Canadians he's very sorry.
G/O Media may get a commission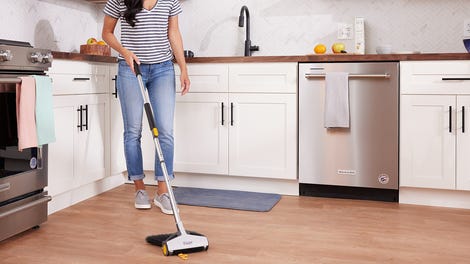 BOGO 50% Off
Flippr - BOGO 50% Off
What's on hitchBOT's bucket list? Millennium Park in Chicago, Times Square in New York, Mount Rushmore in South Dakota, and the Grand Canyon in Arizona.
The hitchhiking robot makes its American debut today in Boston, but if hitchBOT sounds familiar that's because this isn't his first journey. HitchBOT has already made his way across both Germany and Canada, with strangers giving him a lift. HitchBOT's Canadian trek in 2014 from Halifax to Victoria, BC, took 26 days.
"We want to see what people do with this kind of technology when we leave it up to them," one of the creators, Frauke Zeller, told the AP. "It's an art project in the wild — it invites people to participate."
The robot has limited speech recognition skills and will ask if you'd like to have a conversation. Aside from his worldly travels, hitchBOT's formal education comes from Wikipedia, so he can deliver fun facts when asked.
HitchBOT's creators track him via GPS and he even has a camera that takes a photo about every 20 minutes. But hitchBOT's creators won't use any photos of you on social media without your permission. You can also have a conversation with hitchBOT that can be saved as a kind of audio diary if you like.

The hitch-hiking robot's components are intentionally low cost to discourage people from stealing him or dismantling him for parts. Made primarily of buckets, pool noodles, and plastic gloves, hitchBOT is quite a sight to behold. Under the hold he's sporting a tablet PC and costs just under $1,000 in total. Let's just hope nobody jacks hitchBOT's prized wellies.
You can follow hitchBOT's adventures on Twitter, Instagram, and Facebook. And if you see him on your own travels, don't be shy about taking him along. Just don't try to use him for the carpool lane. Until robots gain some rights in this country, the cop will probably still give you a ticket.
[Associated Press and Vimeo]