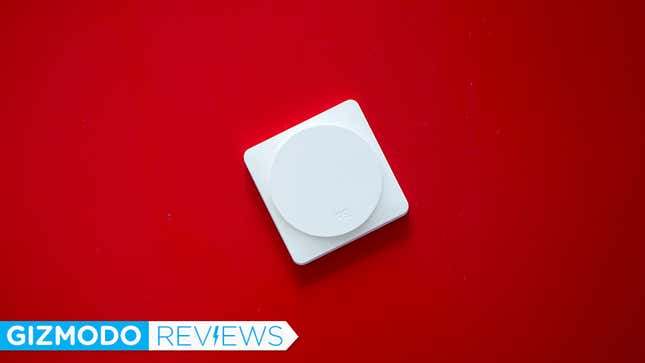 I have issues with smart home technology. The promise of a Jetsons-style, automated living environment has never been closer, but the experience basically sucks right now. After spending a few weeks with a programmable button by Logitech, however, I feel suddenly hopeful.
Vizio's Latest TVs Go All Quantum
The button is called the Pop Home Switch. It's a delightfully simple gadget that can communicate with connected devices throughout your home using Bluetooth and wi-fi. Each Pop button can be programmed to respond to three gestures—one press, two presses, and a long press—and a small hub keeps everything connected. At present, the system is compatible with Logitech's suite of Harmony universal remotes, smart home platforms like Samsung Smart Things (among others), as well as lighting systems like Philips Hue (also among others). That's not every connected device on the market, but few things in the smart home world are truly universal.
This fact became immediately clear when I first tried out my Pop switches. My apartment is full of a smattering of connected devices that I've tested over the years, including but not limited to a Sonos speaker, a Harmony Elite remote, and a series of GE Link bulbs connected to a Smart Things hub. Finding a better way to control my lights has been an ambition for a while. I technically have the capability to control them remotely, but I never do it since the settings are buried in a clunky Samsung app on my phone. A simple button with three gestures seemed like a promising solution to toggle between on, off, and a moody sort of dimmed.
So when I set up my first Pop switch, I tried to make the cleanly designed little button control my lights. It didn't work, but Logitech was not to blame. There has been a breakdown in the daisy chain between the Pop switch, the Pop hub, the Smart Things hub, and the lightbulbs. I spent a few hours trying to fix it before I decided to curse Smart Things and try a more direct connection.
When I reprogrammed the button to turn on my Sonos speaker, it worked like magic. One tap to play music. Two taps to skip the track. A long press to turn it off. (You can program the button to do anything with each of those gestures, although the options for the device are somewhat limited.) Did this new functionality change my life? Not in a profound way. It is pretty cool to come home, push a button, and hear some sick jams, though.
The weirdly enjoyable thing about the Pop switch is that it's essentially a blank canvas. Although your options are limited, you can program the button to control connected devices that otherwise require smartphone apps and nests of menus. You can do similar things with an Amazon Echo, but I've never gotten comfortable talking to my gadgets. The Pop switch is like a light switch, only smarter. This kind of thing is honestly what makes the idea of a smart home exciting.
Excitement doesn't come cheap, unfortunately. The Pop Home Switch starter kit, which includes two buttons and a hub, will cost you $100. Each additional button is $40. I'd love the technology a lot more if you could buy these buttons for $5 a pop and put them all over your house. Then again, sometimes you have to pay a premium for gadgets that actually work.
README
Press a button that does whatever you want? Sure!
The Pop switch is a bit pricey for a solution to a problem that might not exist.
But everybody loves a well designed gadget.