Project Yosemite, the team behind one of our favorite timelapses in recent memory, has just released a trailer for the second installment in their jaw-dropping video project. It's only a minute long, but we already have high hopes for this one.
Project Yosemite comprises filmmakers Colin Delehanty and Sheldon Neil; but the pair collaborated with The Muir Project (a collective of multimedia artists who hiked and documented their travels along all 219 miles of California's John Muir Trail) to bring their latest brainchild to fruition.
"We put way more effort into this second video" said Delehanty in an email to io9. He hopes to see Project Yosemite released to video by the end of the month. "If I counted correctly, we hiked roughly 250 miles to capture all the footage. We carried a lot more camera equipment, too [and] brought out some high frame rate cameras to film the waterfalls and snowfall."
The new installment will also feature more footage of Yosemite's backcountry, and more shots of the park during winter. "We wanted to highlight parts of the park that people rarely see and capture them in the best light possible," Delehanty tells io9. He continues:
Sometimes we'd hike 20 miles and get an amazing sunset and everything would go as planned and sometimes it wouldn't. We rolled the dice on each trip hoping that we'd get the opportunity to capture something beautiful. We had to work a lot harder for these shots too since we'd normally arrive at our destination with barely enough time to setup and capture that perfect light. It can take us up to an hour to get our camera gear setup and ready to shoot. I think our biggest accomplishments were the trips where we would stay up pretty much all night to capture timelapses from sunset all the way to sunrise. After a long night its a challenge to keep yourself going especially when you can barely feel your fingers as you setup a shot. Its really hard to tell what you'll get until you start shooting. No matter how many times I see it Yosemite always blows me away. Every sunrise and sunset is a unique and beautiful experience.
G/O Media may get a commission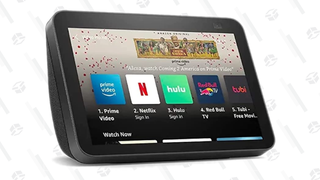 We can't wait to see the finished product – we'll keep you posted when it lands.