Angel Le and his six-year-old son Brandon were visiting a memorial in Paris when a reporter for Le Petit Journal stopped to ask a few questions. The resulting clip was shared more than 11 million times on Facebook, generated a tearful stream of tweets, and millions of views from around the world.
Deadly Mississippi Tornado Kills More Than 2 Dozen | Extreme Earth
It's not hard to see why the video became hugely popular, quickly subtitled into multiple languages and shared near and far. It's heartbreaking and heartwarming at the same time to watch an adorable child struggle with the concept of terrorism and be reassured by his father. The elder Le's take-away message is optimistic and idealistic, a welcome balm considering the terrible events and the subsequent fear-mongering that has dominated the news cycle. If only more exchanges about what happened were like this.
"They've got guns, they can shoot us because they're really really mean, daddy," says Brandon.

"They might have guns but we have flowers," says his father.

"But flowers don't do anything, they're for, they're for..."

"Of course they do, look, everyone is putting flowers. It's to fight against guns," Angel tells his son.
Angel Le has received an outpouring of support in the wake of the interview's popularity, telling the Canadian Broadcasting Corporation, "Now I'm walking down the street and a lot of people stop me and say 'thank you for giving a good education to your son.' I'm very surprised."
The two didn't set out on their memorial visit to become Internet famous, but it's hard to imagine a better result of virality. I wish I could put this video into a time capsule for future generations as representative of the resilience of humanity.
G/O Media may get a commission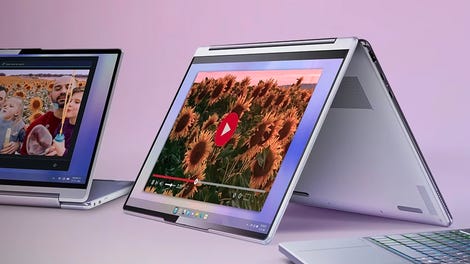 up to 70% off
Lenovo Spring Clearance
[CBC.ca]