Television loves you this week. We're getting the season finales of Supernatural and Smallville, the origin story of Lost's Smoke Monster, those nasty Weeping Angels from the Whoverse, and new episodes of V, Chuck, FlashForward, and more! Minor spoilers ahead.

MONDAY 5/10/10
On Chuck (8PM, NBC, "Chuck Versus the Tooth"), Chuck thinks his dreams spell disaster for a foreign dignitary, and Anna must talk to Morgan at Buy More.
LATE NIGHT: The Iron Man press blitz isn't quite over yet. Kimmel has Don Cheadle while Letterman has Sam Rockwell, but he also has Evangeline Lilly so — depending on your opinion of Kate — he either wins or loses the evening.
TUESDAY 5/11/10
Lost is in the final stretch with "Across the Sea" (9 PM, ABC). After last week's heartbreaker, it looks like we'll finally see what Flocke, Smocke, or Ersatzmokey is actually up to. Expect wine bottle and go metaphors out the wazoo.
In the U.S. second-season premiere of the time-traveling cop show Ashes to Ashes (10 PM, BBCA), Alex suspects someone else in 1982 knows she's from 2008, the series is set against the political backdrop of the Falklands War, and a mystery surrounds a corpse discovered in a Soho strip club.
G/O Media may get a commission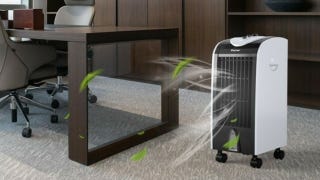 Save $10
Evaporative Portable Air Conditioner Cooler with Filter Knob
On V (10 PM, ABC, "Fruition"), someone in Anna's inner circle is attacked, while Erica searches for a scientist who may have a weapon to fight the Visitors.
At 9 PM on PBS, there's Frontline/World - "The Carbon Hunters." Scientists travel to Brazil to capture every sentient beings' favorite element.
On Encore, there's Quarantine at 8 PM.
A Star Trek: The Next Generation marathon spans from 8 AM to 10 PM on Syfy today.
LATE NIGHT: Evangeline Lilly is now over on Jimmy Fallon.
WEDNESDAY 5/11/10
On AMC, it's a double feature of Star Trek: Generations (8:00 PM) and Star Trek: First Contact (10:30 PM).
At 8:00 PM on Animal Planet, the River Monsters crew hunts down a freshwater shark. This show makes me hate canals, fjords, and quarries.
LATE NIGHT: Breaking Bad's Bryan Cranston is on Craig Ferguson.
THURSDAY 5/12/10
New FlashForward (8 PM, ABC, "The Negotiation"), things are revving up - Mark must protect Gabriel (i.e. the savant who is secretly Gaius Baltar), Aaron gets medieval in Afghanistan to rescue his daughter, and triple-agent Janis must follow Carlene's command, "Kill Mark Benford."
On Vampire Diaries (8 PM, CW, "Founder's Day"), Alaric and Damon attempt to stop Johnathan's nefarious schemes.
On the season finale of Supernatural (9 PM, CW), Sam and Dean are faced with the apocalypse, after confronting Death in a pizzeria last week. It's the boys versus Lucifer, and things won't be pretty.
LATE NIGHT: Robert Downey Jr. is on Craig Ferguson and Sam Rockwell is on Jimmy Fallon.
FRIDAY 5/13/10
On the Smallville season finale "Salvation" (8 PM, CW), it's a throwdown between Zod and Clark, but it looks like Chloe's got the Justice Society in tow to stop the marauding Kandorians.
On Stargate Universe (Syfy, 9 PM, "Pain"), Dr. Tamara Johansen investigates the causes of the Destiny crew's hallucinations.
A Tales from the Darkside marathon runs on Syfy from 10 AM - 4:30 AM
SATURDAY 5/15/10
New Doctor Who (9 PM, BBCA) with "Flesh and Stone." The Doctor must escape through the forest vault after they are confronted with the massively creepy Weeping Angels, who've varied their repertoire of threats beyond just "making you travel back in time and shack up with a cute 1920s man."
SUNDAY 5/16/10
On Breaking Bad (10 PM, AMC, "Kafkaesque"), Walt and Gus mediate their differences while Jesse chases a new endeavor.
At 10 PM on Animal, River Monsters sets its sights on a mysterious freshwater "Alaskan Horror."