Thank Baby Jesus for Stephen King: his new horror miniseries is almost the only thing on television that's not Christmassy this week. The Christmas specials do include some fun new episodes of Adventure Time, Eureka and Warehouse 13, though. And American Horror Story is ramping up to its shocking season finale with more rubber-suited insanity.
Plus some of the holiday-themed badness will at least be amusing. Like a TV movie about Santa's daughter discovering that "it's hard to tell the difference between naughty and nice." And another TV movie where Colonel Tigh defeats an evil snowglobe. Here's how to make the most of holiday TV this week.
Today:
Cartoon Network has Christmas-themed episodes of its usual Monday night cartoons, starting with Johnny Test at 7 PM, in which:
Johnny has to move from the "naughty" to the "nice" side of the list if he wants to get the extreme snowball making machine he wants for Christmas.
That's followed at 7:30 by a new Amazing World of Gumball. Then at 8 PM, there's a special half-hour episode of Adventure Time, "Holly, Jolly Secrets":
Finn and Jake try to discover the Ice King's evil secrets before he finds them.
Watch a brand new Adventure Time clip above. That's followed by a new Mad at 8:30.
G/O Media may get a commission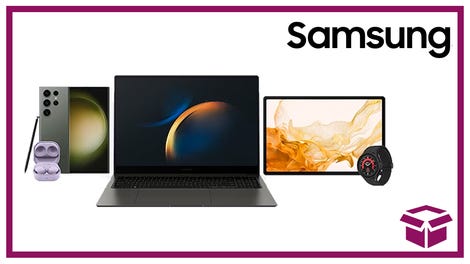 24 hour deals
Discover Samsung - Daily Deal
Syfy has the second half of its Neverland miniseries at 9 PM, in which we finally get to see how Peter becomes "Peter Pan." What did you think of part one last night?
And then at 10 PM, Science has a new episode of Meteorite Men.
Tuesday:
Syfy is airing holiday episodes of Eureka, Warehouse 13 and Haven tonight. First up, on Eureka:
The quaint town of geniuses is transformed into animated versions of themselves. Sheriff Carter (Colin Ferguson) and Allison Blake (Salli Richardson-Whitfield) are secretly planning the perfect holiday surprise for their kids. But a mysterious kaleidoscopic wave of color crashes over Eureka, leaving the entire town and its inhabitants animated...

Emmy-Award winner Jim Parsons is set to voice Carter's long put-on Jeep, who's had enough of his owner's cavalier attitude towards him. Edward James Olmos will voice Rudy, the leader of a pack of sled dogs who befriends Deputy Andy. Chris Parnell also guest stars as Dr. Noah Drummer, reprising his role from last year's Christmas special. Matt Frewer will be featured as an animated, altered version of himself, and helps Jo (Erica Cerra) make an important realization about her tough-girl personality.
And then at 9 PM, Warehouse 13 has a new holiday episode, "The Greatest Gift."
Pete inadvertently activates an artifact that creates an alternate reality where he never existed. To restore reality as he knows it, Pete must track down his friends, who have new lives and no memory of him.
I watched it the other day and it's pretty fun. You can read our interview with star Joanne Kelly here.
And finally at 10 PM, there's a brand new Haven on Syfy, "Silent Night":
Everyone in Haven thinks it's Christmas, even though it's July. No one seems to notice that it's the wrong time of year except for Audrey Parker. She has to work to try and set things right, especially when people start disappearing into thin air.
Wednesday:
At 10 PM, there's another new American Horror Story on FX, "Smouldering Children." There are just a couple episodes left this season! Here's what to expect:
While Violet learns more about the Murder House, the police interrogate Constance and the true story of Larry's burns is presented.
A second option at 10 PM: a new Psych on USA, "The Tao of Gus."
And then there's also a new episode of Brad Meltzer's Decoded at 10 PM on the History Channel, entitled "2012: Has It Begun?" (To which the obvious answer is: No, not for another few weeks.)
Thursday:
Community is a dwindling resource on NBC. This week at 8 PM, the show does a special glee club episode.
Or you could also watch The Big Bang Theory on CBS, in which Leonard faces his high school bully.
At 9 PM, the latest Person of Interest actually focuses on the show's most interesting character: Detective Carter. In "Get Carter":
WHEN CARTER'S LIFE IS PUT IN JEOPARDY, REESE AND FINCH MUST PROTECT HER WITHOUT GETTING CAUGHT. Reese and Finch's game of cat and mouse with Detective Carter becomes infinitely more complicated when The Machine declares that she is their newest POI.
And at 10 PM, on a special night, NBC has a new Grimm — the show's done well on Friday nights, so they're probably trying it out on a more high-profile time slot.
A MORBID DISCOVERY AT A LOCAL PREP SCHOOL LEADS NICK TO A TROUBLED MUSIC PRODIGY WITH A SECRET — Nick (David Giuntoli) and Hank's (Russell Hornsby) investigation of a dead high school teacher leads them to the school's outcast, Roddy. Nick realizes that there's more to Roddy than meets the eye, and enlists Monroe's (Silas Weir Mitchell) help to get through to the troubled teenager before he exacts revenge on the students who wronged him. Meanwhile, Nick learns that his presence is beginning to affect the creature world.
Also at 10 PM, there's another Burn Notice on USA. Plus there's more Beavis and Butthead on MTV.
Friday:
Cartoon Network's Friday evening programming starts early, with a new Secret Mountain Fort Awesome at 5:30 PM. There's a new Generator Rex at 6 PM, "Phantom of the Soap Opera." Then there's a new Ben 10: Ultimate Alien at 7:30 PM. But no Clone Wars or comic book superhero shows tonight.
Then at 8 PM, NBC has one of the last episodes of Chuck, "Chuck Vs. The Hack-Off."
AN UNDERCOVER MISSION AT A BIZARRE CULT RECONNECTS CHUCK WITH HIS HACKER PAST — CARRIE-ANNE MOSS, BEAU GARRETT AND DANNY PUDI GUEST STAR — DIRECTED BY ZACHARY LEVI — A mission to track down a computer super virus leads Chuck (Zachary Levi) to return to his roots as a hacker — and to call on his biggest competition, Gertrude Verbanksi (guest star Carrie-Anne Moss), for help. Elsewhere, a new Buy More employee (guest star Danny Pudi) complicates Jeff (Scott Krinsky) and Lester's (Vik Sahay) friendship.
Also at 8:30 PM, Disney has a new A.N.T. Farm, the show about supergeniuses in high school.
There's a second episode of Grimm at 9 PM on NBC, "The Three Bad Wolves."
Then at 10, there's the season finale of Onion News Network on IFC.
Also at 10 PM, there's a new Sanctuary on Syfy, "Acolyte."
And at 11 PM on G4, there's a new episode of X-Men Anime, "Lost."
Saturday:
The Hallmark Channel is having yet another horrendous holiday-themed movie, Annie Claus is Coming to Town. Here's what to expect:
Santa's daughter (Maria Thayer) takes her first trip away from the North Pole during the Christmas season hoping to find adventure and love in sunny California. While Santa watches his daughter through a magic snow globe, Annie arrives in L.A. and becomes friends with the owner of Candy Cane Inn, Lucy (Vivica Fox), and her daughter, Mia (Nay Nay Kirby, "Dance Flick"). She also quickly lands a job at Wonderland Toys. Wonderland Toys' owner, Ted (Page) is struggling to stay in business selling old-fashioned toys in a digital world. Annie soon realizes that she wants Ted's business to thrive because she has feelings for this Christmas traditionalist.

Annie also knows that when she finds her true love, she and her mate will move back to the North Pole to take over the family business. But Santa isn't the only one watching Annie through the looking glass. So is a senior Santa Elf who himself wants to inherit the Ho Ho Ho of Holidays, so much so that he hires a Hollywood actor to feign affection for Annie. Although Annie temporarily falls for the imposter, she realizes there is something about Ted that is unforgettable. Will Annie's choice make her Christmas — and everyone else's — merry and bright?
At 9 PM, BBC America has another new Primeval, in which:
The exhausted ARC team struggle to cope as more anomalies are opening. As the whole team lets Lester in on the secrets of Matt's mission, they're interrupted by worrying news – anomalies are opening everywhere and there are reports of a huge creature loose on the streets. Matt knows this is something important – the time he's been waiting for is now.
But there's also an exciting new movie on Syfy called Snowmageddon!
Starring Michael Hogan (Battlestar Galactica), David Cubitt (Medium) and Magda Apanowicz (Caprica), the Christmas-themed Snowmageddon is about a mystical snow globe that makes very bad things happen in the real world when it is shaken.
Yes, Colonel Tigh is starring in a movie about an evil snow globe.
Sunday:
At 8 PM, there's a brand new Once Upon A Time, "The Heart is a Lonely Hunter."
One of the town's residents begins to remember their fairytale past, and Storybrooke mourns the loss of one of their own. Meanwhile, in the fairytale world that was, the Evil Queen attempts to find a heartless assassin to murder Snow White.
Fox has its usual Sunday-night animation bloc starting at 8 PM with The Simpsons, Family Guy, Cleveland Show and American Dad.
And at 9 PM, there's the coolest event of the week: the first night of A&E's new miniseries based on Stephen King's Bag of Bones.
In "Bag of Bones," bestselling novelist Mike Noonan (Pierce Brosnan) is unable to stop grieving after the sudden death of his wife Jo (Annabeth Gish). Suffering from writer's block, a dream inspires him to return to the couple's lakeside retreat in western Maine. While there, Mike befriends an attractive young widow, Mattie (George) and her daughter Kyra (Caitlin Carmichael), and becomes involved in a custody battle with the child's enormously wealthy grandfather, Max (William Schallert). Though his ability to write suddenly returns, Mike is plagued by ever-escalating nightmares and mysterious ghostly visitations from Sara Tidwell (Rose), a blues singer whose spirit lingers in the house. As he is haunted by the many secrets at the lake, Mike comes to realize that his late wife still has something to tell him.
Then at last, there's a new Robot Chicken on Cartoon Network's Adult Swim at 11:30 PM, "The Curious Case of the Box."
Sources: Futon Critic, MSN TV, TV Guide, and various TV studio press releases.