I'm not going to lie, despite all the hype about 5G and new phones announced at MWC 2018, it still felt kind of like a down year. LG didn't have much, HTC, Xiaomi, and Motorola were essentially no shows, and while I appreciate that Samsung went hard on the S9's camera, aside from a new processor, the rest of its new flagship phone seems to have largely remained the same.

Apple's Vision Pro Seems Powerful, But Who Is It For? | Future Tech
That's precisely what makes Vivo's Apex concept so invigorating. Vivo is a Chinese phone maker who is probably best known in the US for making cool phones that never seem to actually make it here. The Apex is a great example. It's a concept phone that's not intended for sale. But it does give us a glimpse of a future phone world that isn't all about notches and dual rear cameras, and it's a future I'm frankly pumped for.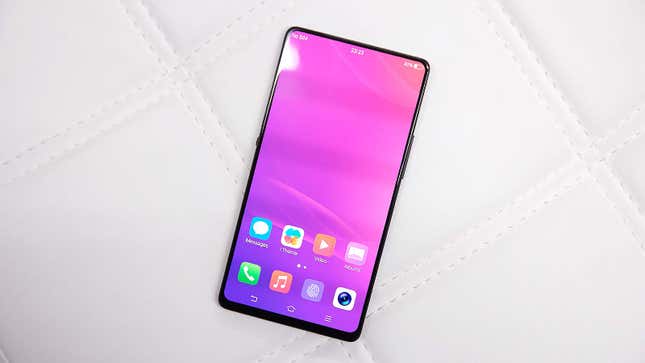 Regardless of whether the whole all-screen trend is good for phones or not, the Apex's minimal 1.8mm bezels on its top and sides are a triumph. To make it happen, Vivo used a flexible OLED display so the company could wrap the bottom of the screen behind itself inside of its chassis, which made it possible to reduce the size of the Apex's already tiny chin to just 4.3mm.
But that's not all, because Vivo says it's possible to refine the design even more, and if the company could reduce those bezels to 1.8mm all around, the Apex would have an incredible screen-to-body ratio of 98 percent. At that point the race to go full bezel-less would practically be over, and Vivo would be the winner.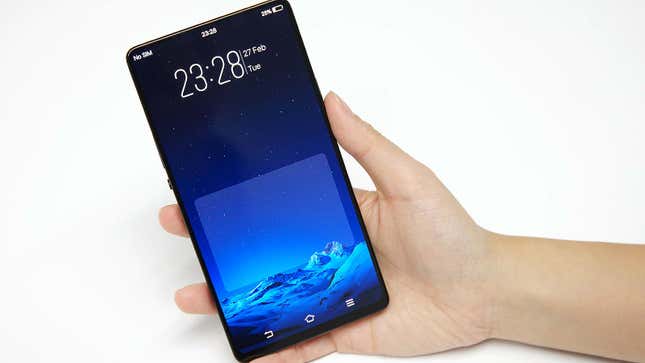 On top of being the first company to ship a phone with a fingerprint reader embedded beneath the display in the X20 UD, which came out in China earlier this year, Vivo went and pushed that idea further by creating a massive in-screen fingerprint reader that covers about a third of the entire display. That means now you can basically touch anywhere on the bottom of the screen to open your phone. But that's not all, because you can turn on dual-fingerprint registration, which requires to digits to unlock instead of one, or even use two fingerprints from different people so you can implement nuclear missile launch type routines.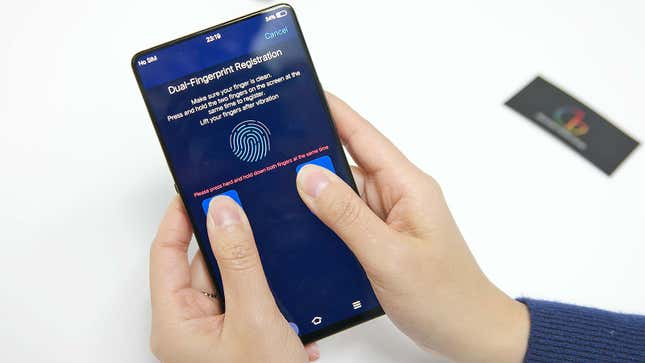 And then there's the Apex's secret party trick: a selfie cam that pops up from the phone's top edge. In normal use, the camera is hidden away, flush against its body, but as soon as you open up the camera app and press the button to switch to selfie mode, up it rises, like a black and gray monument celebrating modern day narcissism.
In a world where every other company has been trying to figure out where to put a front camera on an all screen phone, Vivo just went out and did it. Hell yes.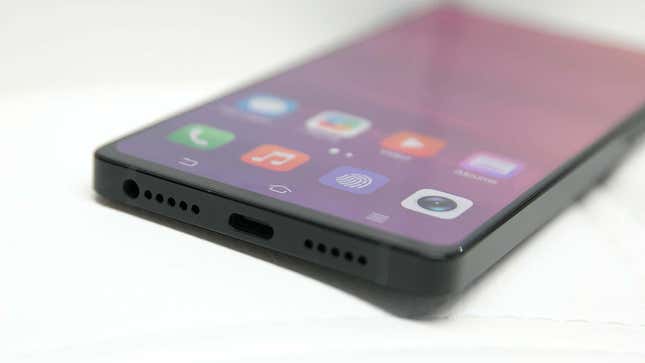 Oh, and in case you were looking for an earpiece, there's isn't one. Instead, Vivo uses something it's calling "screen sound casting technology" which vibrates the display in a way that is supposed to turn the entire phone into a speaker (think Sony's OLED TVs). You put your ear up against either side of the phone, and hear a call just like normal, with pretty decent sound quality too.
The Apex is still a concept phone—its just a glimpse of what could be—and there might even be something similar in labs of bigger and better known phone makers. Yet Vivo is proving there's still plenty of unexplored territory that can make smartphones exciting. Yes, the pop-up cam probably isn't very durable, and it's hard to say how much more secure locking your phone with two fingers rather than one is. But I'm glad Vivo is at least trying.