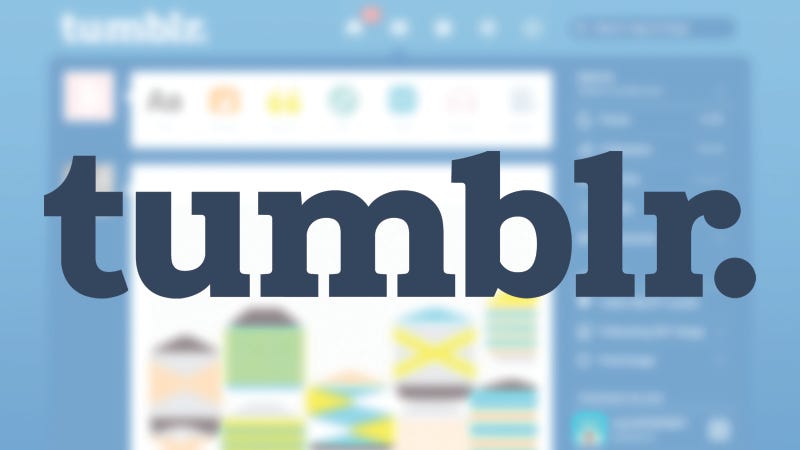 You can use Tumblr to blog about your love of BBC detective shows or YouTube celebrities, but you don't have to. It's a platform that offers more versatility and nuance than you might think. Here are three alternative approaches you can take with your Tumblr site.
1. Single-serving website
Tumblr includes a very useful random post feature that you can access by linking to <yourblogURL>/random. That means you can set up a front page with a single post and a single link to provide jokes, inspiration, advice or anything else... something like this, perhaps. All visitors have to do is click the link to see another tip or image pulled from the archives.
To set this up you need to open up the Tumblr customization options and create a redirect page that links to the /random URL. You'll also need to set the number of posts to display as 1, which you can do from the Advanced section of the customization page. Throw in a custom domain name and you have a professional site ready to go viral.
2. Online portfolio
There are dozens of great themes in the official Tumblr gallery and you can pick up plenty more from marketplaces such as Themeforest. A lot of these themes let you transform your blog from the usual feed of posts to something that's more suitable for showing off your photography or graphic design skills.
Some of the portfolio themes are free to install and use, but most of the best ones will cost you: a couple of our favorites are Vesper by Pixel Union and Pacific Grid by Style Hatch. Remember you can always tweak the look and feel of your blog through the customization screen, or indeed build one from scratch.
3. Combine your social media accounts
It's no surprise that the excellent IFTTT offers full Tumblr integration, so you can plug anything into your Tumblr blog and back out again. One way to take advantage of this is to feed all of your tweets, Facebook updates, Instagram and Flickr pictures, WordPress and Blogger posts, Last.fm scrobbles, Foursquare check-ins, LinkedIn updates and (most importantly) Yo's into a constant stream of your life.
Perhaps only your biggest and most ardent fans would want to sign up to follow such a Tumblr, but you could always keep the blog private and use it as a personal diary that no one else can see. All of the usual Tumblr features, like the archive page and the search tool, are still be available to help you delve back into the past.
Any other fun alternative Tumblr uses we missed? Let us know in the discussion below!