Apple's CEO Tim Cook should be happy. Yesterday's Apple show-n-tell was the most important since the original iPad's introduction—an action-packed gangbang of hot new hardware and shiny software updates, rather than the snooze fests that were starting to become the norm even when Steve Jobs was on stage.
In just 90 minutes, Apple drenched the mass of eager fanboys with the billion gallons of baby unicorn blood that was juiced to create all its new products. How else can you explain the existence of a seemingly magical MacBook Pro that, on paper, is the most amazing laptop I have ever seen or wished for.
G/O Media may get a commission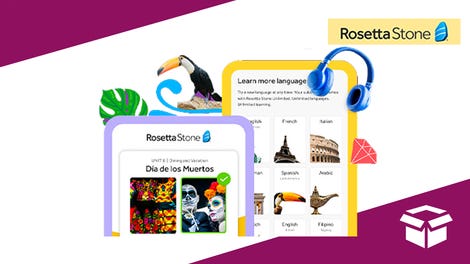 Extra 20% off
Rosetta Stone Lifetime Subscription - All Languages
Heck, except for the full-surface trackpad, the next-gen MacBook Pro is all I wished for back in February: an insane 2880 x 1800 pixel, 15-inch display with a fast fast kill kill processor and graphics, solid state storage, ports-a-go-go and a listed seven hours of battery life in a 4.5-pound, 0.71-inch (1.8 cm) thick package. For just $2200. I already bought one.
That alone would've been enough to fill the entirety of recent Apple keynotes. But yesterday's came with a sack full of one more things.
The all-star MacBook Air line got much better for less money than before. More stuff. Less money. Apple. Shock. And the MacBook Pro got upgraded big-time too.
And as if the shiny toys weren't enough, there was software too. The final OS X Mountain Lion release will be able to listen to you and update itself quietly while it sleeps in the jungle at night. And the new iOS 6 has some incredibly appealing features—a Siri that will be able to buy you movie tickets and make a restaurant reservation on command, new awesome-looking Maps with turn-by-turn navigation, and an application called Passbook that allows you to store all your tickets and reward cards—airplanes, train, movies, concerts, sport events, gift cards, whatever—in a single wallet, updating information like your boarding gate or gift card balance in real time.
Steve's team
It was a crazy run for the post-Steve Apple, executed by the same men who Steve put in place long before he died, back in October 2011. Here's what I wrote last fall, the first time Steve allowed his lieutenants take completely over the stage:
Today it was the confirmation that those days may be over forever. It seems like Steve has decided it's time not to appear like Johnny Cash anymore, but time to become Mick Jagger. And with him, he brought Keith Richards, Charlie Watts, and Ronnie Wood. Today Steve's band played all the tunes in harmony, showing to the world that there's more to Apple than just the frontman, even while his DNA is deep inside every single aspect of the company's culture.

Instead of kicking off with a market analysis to prepare the ground, this time it was Tim Cook who took the stage wearing Steve's color scheme: Blue jeans and black top. Psychologically, this puts them at the same level, easing the future potential power transition. Seems stupid, but you can bet it wasn't coincidental, even while Cook has zero appeal when compared to the rockstar CEO. Then came "Jony" Ive to talk about the design and aluminum laser making, and it wasn't until minute 18 that Steve took over to present the actual toys. Twenty-seven minutes later, for a man that has taken on two-hour presentations without even blinking, the MacBook 2008 video kicked off only to be followed by a short Q&A-with Cook and Phil Schiller as wingmen-after which he had time to crack a quick joke about his own health.
While Jobs was alive but too sick to participate in the company—and this happened quite a few times before his retirement—it felt as if things were falling apart slowly. I attributed this soft decadence to the fact that Jobs wasn't there to control every detail, as he did when he was at full throttle. Also on the stress that his absence was causing across the company.
After Jobs died, I was dismayed every time I saw something that struck me as being unlike him. Half-baked products, lack of attention to detail, corporate culture changes... stuff that would have him rolling in his grave.
Then yesterday, for the first time, it felt like the team that Steve put together has worked. And it feels that it has worked even better than when Steve was around.
You can argue that all this is just the product of Jobs' direction and work, rather than Tim Cook's new vision. After all, all these products are just iterations of things that were created when Jobs was around. But Cook and his team—all of them part of Steve's team—have executed perfectly, delivering an stellar version of a major product and kicking both hardware and software ass. Maybe this is a sign that things have settled and a new era has started.
Maybe.
Last year, before Steve Jobs died, I asked if Apple could be the world's most valuable company without him. I don't know yet. I think that, in the long term, Apple will need really new stuff to keep growing at this pace. And that requires the vision that very few people in this world have. Steve belonged to that group. Cook hasn't shown yet that he does.
But, even while Cook may not have the product vision of a Jonny Ive—Jobs' natural heir and soul brother—you can't deny that he's doing one hell of a job at steering Cupertino's pirate ship after the post-Jobs—mortem storm.
And, for the time being, that's very good news.
Image by Justin Sullivan/Getty Images