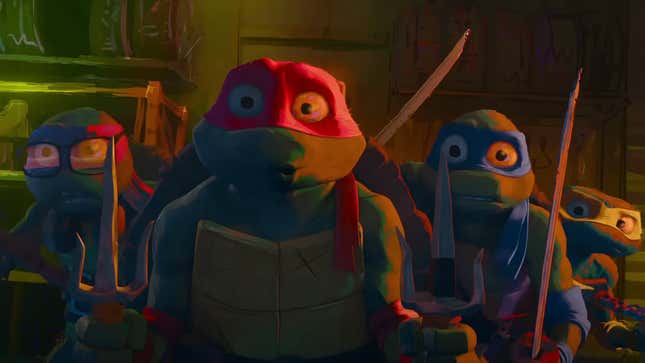 At Paramount's CinemaCon 2023 panel today, producer Seth Rogen introduced a new clip from director Jeff Rowe's Teenage Mutant Ninja Turtles: Mutant Mayhem, appropriately clad in a turtle-green suit. The animated reboot brings a new sense of style to the classic TMNT quartet—voiced for the first time in the franchise by actual teenage actors Nicholas Cantu, Shamon Brown Jr., Brady Noon, and Micah Abbey, as Leonardo, Michelangelo, Raphael, and Donatello, respectively.

Spoilers of the Week: July 1st
But the clip itself is less about the teens and their new friend, April O'Neil (Ayo Edibiri), but a new face among the TMNT regulars created for the movie: Superfly, a mutant fly voiced by Ice Cube. The clip opened as April and the Turtles are on the hunt for Superfly, and they've heard he has a deal going down under a bridge—so they go to ambush him. They're all waiting in a car when two vans show up, and the turtles joke among themselves that these guys are gonna be so scared to see some mutants and then out of the van pops... mutants!
Two massive mutants, to be precise, who we know as Bebop and Rocksteady (Seth Rogen and John Cena)—very classic looks, complete with piercings and tattoos. They're rocking to some hip-hop on a boom box. April is filming all this and tells herself "I'm gonna win a Daytime Emmy" as Superfly jumps out. He's a literal fly, but with a bodybuilder's physique. He spots the Turtles and April:"Y'all a bunch of tortoises, aren't you?" he shouts, but the turtles don't care to correct him—because they can't believe there are other mutants out there.
Superfly then introduces the rest of his crew, which includes the aforementioned Bebop and Rocksteady, as well as Wingnut (Natasia Demetriou), Ray Filet (Post Malone), Leatherhead (Rose Byrne), Gengis Frog (Hannibal Buress), Scumbug, and Mondo Gecko (Paul Rudd). Mondo walks over and hugs Mikey, and the two say they like each other's vibe. From there, the clip faded into a montage of trailer shots—including new moments like April joking that she shouldn't be filming everything they do. The clip concludes with the turtles returning to their sewer home, as Leo explains to Master Splinter (Jackie Chan) why the brothers were late that night. Mikey retorts that Leo ratted them out, and Splinter, of course, doesn't take that phrasing well.
Teenage Mutant Ninja Turtles: Mutant Mayhem hits theaters August 4.
Additional reporting by Germain Lussier.
---
Want more io9 news? Check out when to expect the latest Marvel, Star Wars, and Star Trek releases, what's next for the DC Universe on film and TV, and everything you need to know about James Cameron's Avatar: The Way of Water.