Summer is coming to an end and soon there will be a nip in the air, and that means Autumn's on its way and those leaves will be a changin'. Sounds like it's time for a road trip, taking off for some leaf peeping during the most beautiful time of the year. But what do you take with you?
We just got back from a multi-thousand mile road trip, taking along a carload of gadgets. Which ones proved themselves to be indispensable? There were lots of worthy candidates, but we've boiled it down to the Top 5 Road Trip Gadgets, the most useful accoutrements in our bag o' tricks. See the list, after the jump.
1. Garmin StreetPilot c550 GPS Navigation System
GPS navigation doesn't get any easier than this, and the Garmin StreetPilot c550 showed us the way so many times that it practically became a member of the family. No matter how many turns we missed, the StreetPilot patiently helped us find our way back without calling us an idiot once, and its touchscreen display not only showed us where we were going but how far we'd been, and even revealed that, yes, we had traveled in excess of 100mph. It also played nicely with our Bluetooth telephone, flawlessly played back MP3 files, and even gave us hands-free speakerphonage, too. It's a great package for $800.
G/O Media may get a commission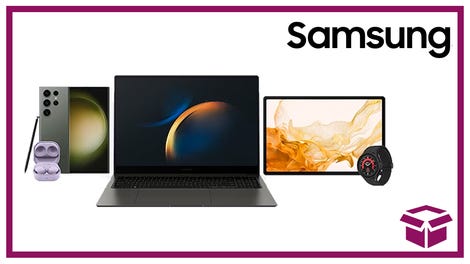 24 hour deals
Discover Samsung - Daily Deal
2. Canon PowerShot SD550 Digital ELPH Peep at all that gorgeous Fall color with a camera that has plenty of power but isn't too big. You can look at spec lists all day long, debating megapixels and 12x zooms, but what it boils down to is, what camera gets used the most? For us, it's the 7.1-megapixel Canon SD550, a near-perfect combination of small form factor, big sharp 2.5-inch viewscreen, fast performance and ease of use. Sure, it's not a 12-megapixel professional digital SLR, but try cramming one of those muthas in your pocket on a 5-mile hike sometime. Yes, we know—it's not brand new, but that turns out to be a plus because that makes the SD550 cheap, around $300.
3. Linksys Travel Router WTR54GS with SpeedBooster
Here's a tiny little pocket-sized Wireless G router that packs the punch of others five times its size. The Linksys Travel Router with SpeedBooster takes that single Ethernet connection in your hotel room and turns it into a WiFi network everyone can enjoy. This baby is powerful enough for people down the hall to tap into without paying, too. It's also great at sharing a wireless hotspot connection, and you can even enable secure encryption between your PC and your friend's. Best of all, it couldn't be easier to configure—every time, we plugged it in and it just worked. It's $80.
4. Dell Precision Mobile Workstation M65
When you're out on the road, it couldn't hurt to have workstation-class performance on your lap, and that's just what you get with the Dell Precision Mobile Workstation M65. It has a 2.33GHz Intel Core 2 Duo T7600 processor on board, Intel's fastest mobile Core 2 Duo, affectionately codenamed Merom. Although it would have been even nicer if it had an SD card slot for all those pretty pictures we were taking, it proved itself extremely roadworthy nonetheless with its internal EV-DO MiniCard that lets you check your email even in the boondocks of South Dakota. It's $3288.
5. Mio C710 Digiwalker
The Mio C710 Digiwalker is more than just a highly accurate GPS device with maps for all of North America inside and natural-sounding voice commands giving you turn-by-turn directions. It's an excellent multimedia player, with a bright and sharp 3.5-inch display that can play MPEG4 and DivX movies for you, and also handles all the MP3s you can cram onto an SD flash disk. Plus, it works seamlessly with your Bluetooth phone, giving you a hell of a good-sounding speakerphone and showing you caller ID when the phone rings, too. It's easy on the pocketbook as well, cheaper than most GPS units at $600.